From Center Hall Fall 2010
Printer-friendly version | Email this article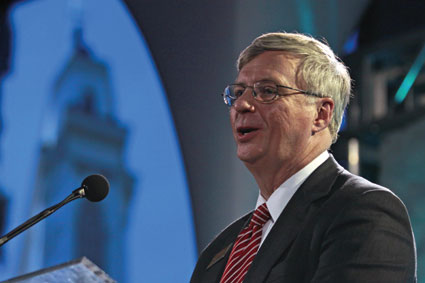 Late in the night before classes began last August I received an email from a Wabash man from the Class of 2010 reminding me of a milestone we had shared a few months earlier. He had received his Wabash degree, and I had enjoyed the honor of ringing out the first class I had rung in when I first became president of Wabash. To mark our Commencement, we had all walked together for the first time through the Senior Arch, honoring one tradition and beginning another.
In his message this alumnus also noted how, after four years at Wabash, he felt strange not to be readying for the first day of classes. Like many Wabash graduates, he now faces a future in work and life where the milestones are not as established by the order of things: eight years of grade school, four years of high school, four years at Wabash, then graduation. The years ahead stretch out unmarked now, trailing far into a vast and misty future.
This Wabash man was not worried about his future or the College's. He wrote out of kindness and fellowship—a greeting to a fellow traveler about to take his own next step on the journey. But his gesture seems as wise as it was kind—he had established a tradition of marking milestones with reflection, and with a friend.
A Wabash education in the liberal arts requires us all to reflect on the path we have traveled, for one of its core tenets declares that the unexamined life is not worth living. In reflection we recognize the milestones we have passed, and contemplating those milestones leads us to understand the future in a bold new way.
In September I had the great pleasure of talking with 30 Wabash alumni, their friends and loved ones, and five prospective students in San Francisco at a beautiful event hosted by Bob Hobson '57. As we went around the room, each Wabash man said a few words about his life—where he had lived, what he had done, and what Wabash meant to him. Some paths were longer than others, some had more twists and turns, but all were marked not only by milestones the world would recognize, but also by those that revealed themselves only from considerable personal reflection.
The alumni also urged the prospective students to reach high, to see Wabash in their future. I echoed their remarks by asking these young men still in high school to imagine the greatness ahead of them, to imagine what they may make of their futures and how Wabash can help them to live a life marked by their own imagination of what they can become.
These students may or may not become Wabash men, but they certainly knew that we had taken them seriously—perhaps more seriously than they had taken themselves until that moment. And those alumni modeled the true riches of a Wabash education, a reminder to these young men to choose a path in which they live their lives fully, for not only is the unexamined life not worth living, but the unlived life may not be worth examining.
On our best days, Wabash does more than choose a path: We design our own road. That's our work as we embark on the Challenge of Excellence, a $60 million major gifts initiative grounded in our mission and core values but moving boldly and deliberately to set out a path of greatness for the College.
Students come first, and money we raise for student scholarships and financial aid will make the great gift of a Wabash education possible for all qualified young men who have the courage to accept our challenge.
Second and equally important is supporting a great faculty; faculty who want to teach Wabash men and whose lives are spent inspired by their work in transforming the lives of those men. Our work will support the intimate teaching and research that is at the heart of a Wabash education.
Third, we seek resources for global education through immersion learning and international study.
Finally, the liberal arts education of Wabash men has always led to their success in the world beyond Wabash. We seek to continue that tradition of success in every walk of life by enriching the Business Leaders Program and ensuring that all students have the internships and career development to make their lives after Wabash the success that their success at Wabash promises.
The phrase "Challenge of Excellence" is no mere slogan. It describes our most ambitious promise that is the everyday task of Wabash faculty, staff, and students.
For many colleges and universities in this country, the challenge of these hard times is not a challenge of excellence; it is a challenge for survival. For Wabash the challenge is not survival and never has been. Nor is the question merely a challenge of endurance, merely keeping going.
The challenge Wabash now faces is the challenge of excellence. It is the road less traveled, the journey that leads to greatness.
We do not yet know how great this College can be; we do not know what excellence we can achieve together. For all of us involved in this campaign in the years that lie ahead, that is the true Challenge of Excellence.
The milestones of the Challenge of Excellence will be made possible by the generosity of alumni and friends of the College. Even more these milestones will be carved by your understanding of our past and your hopes for our future. The broad directions are outlined, but the achievements along the way will be designed by our communal imagination of what matters most to this College. Wabash will live deliberately. We will make our road together, drawing on the passion, imagination, and experience of all who walk with us.
Just as I invited the young men of the Class of 2010 to walk through the Senior Arch last May, I invite you to join me on this next journey. I invite you to shape and carve the milestones that will mark this College's greatness. Wabash will be stronger and better for the work we do on this journey together, honoring our past, and opening the world to Wabash men for years to come.
Read more about the Challenge of Excellence and watch videos detailing the initiative at www.wabash.edu/excellence