The Guardian of the Game
by Brent Harris
Printer-friendly version | Email this article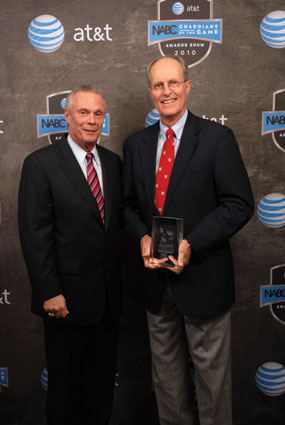 The Bachelor made the announcement to the Wabash campus in a late April 1976 edition—30-year-old Mac Petty had been hired to take over the Little Giants basketball program.
Today, Mac is a Wabash legend—at Chadwick Court and around campus, coaching and mentoring his players in the game and in their day-to-day lives, inspiring and teaching them not only during their four-year careers, but in their years beyond Wabash.
"Coach Petty means the world to me," says Josh Kendrick, who played for Petty from 1993 to 1997 and in 2008 coached his own Brownsburg High School team to an Indiana State Championship. "I owe him everything."
"Coach Petty is everything that is right with college basketball," says University of New England Head Coach Jason Mulligan, who was Mac's assistant from 2002 to 2007.
The National Association of Basketball Coaches agrees. In April at its annual convention, 34 years after that Bachelor article announcing Petty's arrival at Wabash, the NABC handed Mac one of its highest honors: the Guardians of the Game Award for Advocacy.
The awards show took place in Indianapolis during the NCAA Division 1 Final Four weekend, and Mac accepted the award from University of Wisconsin Head Coach Bo Ryan. Afterward he received congratulations from University of Tennessee Head Coach Bruce Perl and Indianapolis Colts quarterback Peyton Manning. But the notes and emails and phone calls had been coming from fellow coaches and players ever since the award was announced.
Mac found it all a bit overwhelming.
"There have been some great people who have won this award," Mac said in the week leading up the Final Four. "It's just really an honor to be listed with them."
At the ceremony, Mac thanked his family and friends for their support over the years, and the coaching fraternity as a whole. He closed the acceptance speech with words that would have come as no surprise to his players and others who know Mac Petty well: "The best way to find yourself is to lose yourself in the service of others."
THE GUARDIANS OF THE GAME AWARD for Advocacy honors a coach who exemplifies the coaches association's commitment to taking a stand on issues critical to the integrity of the game. Coach Mulligan, who nominated Mac for the honor, says the award is a perfect fit for Petty.
"Coach Petty defines what a college coach is and should be, and he has exuded professionalism at the highest level," Mulligan says. "He continues to give back to the game of basketball through service on countless NCAA and NABC basketball committees. But his career should not be summed up only by these things and the many other awards he has won [including being named the 2010 North Coast Athletic Conference Coach of the Year], but in the lives of all those players that he has touched."
Mike Crnkovich '93 says the impact Petty has on his players carries well beyond their four-year career at Wabash.
"As graduates of the College, we are all sons of Wabash, no doubt. Those of us fortunate enough to have played for Coach Petty are his sons, as well.
"I have been many things to Coach: a recruit, a player, a student, an alum. The title I prize the most at this point is "friend." I cherish this friendship and will for the rest of my life. "
Senior guard Chase Haltom praises his coach for the very characteristics that the NABC Award represents.
"Talk about a guy that knows the game! I think one of the best things is his open-door policy allowing players to come by and talk anytime, whether it's about basketball, class, or life in general. He doesn't stop at coaching—he is more concerned with how we do in the classroom. That says a lot for him as a coach, not only for what he has done for Wabash athletics, but also for the student-athletes overall."
"Coach has a saying—'Things work out best for those who make the best of the way things work out.' And I think he's right," Josh Kendrick says. "But you also have to have good mentors in your life. He shaped me into the man I am today. He didn't just teach me the X's and O's of the game; he taught me what it means to be a man, to be a father and a husband, and to be a professional."
Thirty-four years ago, Mac expected his stay at Wabash would last for only a few short years. Now preparing for his 35th season at the helm of the Little Giants program, he couldn't think of doing anything else.
"Wabash is a great place to work. I've always enjoyed the camaraderie of the coaching staff. The environment allows you to be excited about coming in to work every day. I always tell people I'm just pleased when the good Lord lets me get up in the morning, so I owe him for that opportunity.
"But it's fun. You know, when you're having fun, it's not hard. Of course, you can't smile every day; things bog you down just like any other job. But I tell you what: I can feel that way and walk into Chadwick Court and see the players there, and as soon as you see their faces, it brightens your day. You stay young by being around these young players. That's what makes it fun."
And that's what makes him a Guardian of the Game.
Photo: University of Wisconsin Basketball Coach Bo Ryan presents the Guardian of the Game Award to Mac Petty H'82 in Indianapolis.