The Most Important Connection
by Chris White, Family Nurse Practitioner
Printer-friendly version | Email this article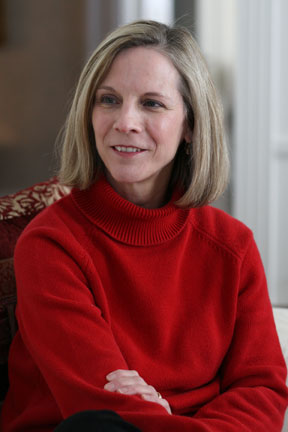 Some years ago I was hospitalized with pneumonia.
A thoracic surgeon recommended a major surgery requiring a 10-inch long incision along my back and the removal of two ribs to manually withdraw the pockets of fluid that had caused my lung to collapse. I didn't think I could physically endure the surgery so I suggested we try a chest tube to remove fluid.
The surgeon finally conceded to the chest tube, which did reduce the fluid in the upper lobe. He then sent me home for a month to regain my strength for the surgery he believed I would need to remove the fluid collapsing my lower lobe.
I went home and, with the support of my family, worked on building my strength. I also practiced positive imagery and focused meditation, using music and laughter as tools of healing, in regular 15-minute sessions four times a day. I have a very funny husband, and our three children all inherited his great sense of humor and comedic timing. They were my therapy.
I went back to see the thoracic surgeon at the end of the month, feeling substantially stronger. When the surgeon viewed my chest films, he was confused. He asked, "What did you do? The fluid is completely gone. How did you get rid of it?"
I told him what I had done and he was flabbergasted. He could not otherwise explain why the fluid had disappeared. He never charged me for his services, offering me professional courtesy because, as he said, I had taught him to listen to his patients and consider new ways for healing to occur.
I have long believed in the mind and body connection—that link between the brain, behavior, and the immune system. Psychoneu-roimmunology explores the implications of these linkages for physical health and disease. We know that exercising regularly and eating nutritional foods can prevent obesity and other chronic diseases, including high blood pressure and diabetes. Physical exercise can also relieve symptoms of depression and anxiety, and can reduce nicotine cravings for smokers who are attempting to quit. And we know quitting smoking is essential for long-term health and wellness.
Yet there are moments I have encountered in my nursing practice that defy the power of the mind to influence the body, and the power of the body to influence the mind. Both human nature and Mother Nature play roles here.
For instance, the intention to initiate healthy behavior—exercising regularly, eating healthy foods, quitting tobacco—can convert to actual behavior by enlisting the support of someone you care about, whether a friend, spouse, dietician, nurse, or physician. Social support is a powerful motivator of healthy behaviors. Another is finding behaviors you enjoy: Tastefully prepared healthy foods and exercise routines that make you smile as well as sweat are more easily adopted as lifestyles. And enjoyment escalates when the weather is cool and dry, and the paths and sidewalks are smooth and safe.
In 2003, my family drove across the plains to Arizona for a rim-to-rim hike of the Grand Canyon. Aspiring to a sound mind, sound body approach, we all pepared well for our excursion. We were fit, having worked on building our endurance and strength for months. The family teased mercilessly that I had packed for every possible emergency or quirk of nature during our hikes. We had hydration packs, salty snacks, hi-carb meals, first-aid supplies for everything from blisters to major lacerations requiring stitches, and agents to counteract the dreaded bite of the sand scorpion.
However well we planned, we could not completely predict how each of us would respond to the forces of nature. We were hiking in early July and on the afternoon of our first day I began feeling nauseated and disoriented, symptoms of heat exhaustion. I told Pat what I was experiencing. With some panic, he said, "Chris, you're the nurse. What should we do for you?" We were hiking along Devil's Backbone, a rocky, unshaded trail. I told him that I had to cool off, preferably by laying in the icy creek deep down the ravine next to the trail.
My kids took turns carrying my pack along with their own, while Pat provided shade with his body as we walked. He directed my footsteps, wet my kerchief, hat, hair, and shirt, and encouraged me to drink water and eat those salty snacks until we reached the water of Bright Angel Creek. Forty-five minutes later I had recovered. When we arrived at Phantom Ranch, our destination for the night at the bottom of the Canyon, it was 130°.
We were very fortunate that day—a day when a strong body and a strong mind would not have been enough to protect my health. It took the social support of my family and our respect for the power of nature to get us through unscathed.
Over the years I have learned to trust what my mind tells me, to trust what my body says to me, but also to be wary of their individual wisdoms and sensitive to the limitations of each. As important as the mind-body connection is, the connection to those we love, who most care about us, is even more vital. Reading in this issue of the magazine the many ways alumni, faculty, and students define health and strive to achieve well-being, I am impressed with the message: You cannot do it alone.
The encouragement and support of family, friends, and the Wabash community guarantees that we don't have to!
Wabash First Lady Chris White is a family nurse practitioner with a master's degree in community health. She has taught at Indiana University/South Bend's School of Nursing and is a board member of Crawfordsville's Christian Nursing Service.
Contact her at whitec@wabash.edu