Embracing Victory
by Matt Hudson '10
Printer-friendly version | Email this article
The 2009 Monon Bell game may be remembered by most for Coach Raeburn's gutsy call on fourth down from our own 18, but that's not how I will remember it.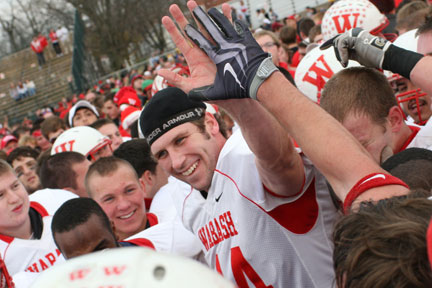 As I lay in the hospital emergency room surrounded by beeping machines and scrambling doctors, one thought kept running through my head: How could this have happened?
Ten hours earlier I'd been on the football field unconcerned that the very next play could be my last. The game was still on the line, and I approached that third down play late in the first quarter focused on getting the first down.
All season long my coaches had preached to me about sliding to avoid serious hits, but that wasn't my nature. Sliding is what baseball players do, and I haven't played baseball in eight years.
As I dove forward to reach the marker, I felt a sharp pain in my side. I struggled to my feet and stumbled to the sideline, imploring Coach Raeburn to call a timeout so I wouldn't have to come out of the game.
While the referees measured the spot of the ball (which came up just inches short of the first down), I began to feel better for a moment. But once the adrenaline wore off, I realized that what had happened was far worse than a momentary lack of air.
Seven hours after my brother and teammate Denver Wade '10 helped carry me off the field because I could barely stand, I was lying in the hospital with a collapsed lung, two cracked ribs, and bleeding into my chest cavity.
As bad as the two words "internal bleeding" sounded coming out of my doctor's mouth, they paled in comparison to "chest tube." I realized that what followed was likely to be painful. And it was.
Once the one-inch wide tube was firmly lodged between my ribs and draining two liters of blood from my chest, I distinctly remember looking at my parents with a helpless look that screamed, "Why?"
After all, this was an injury reserved for victims of serious car accidents, not football players.
I discovered later that an average of eight football players in the United States a year suffer a collapsed lung during play.
The team doctors and trainers made it very clear—this was not an injury to rush back from. The consequences of taking another shot to the ribs were serious.
So I sat and watched the team prepare for the game that would determine our conference champion, praying that I would heal in time to leave a mark on my senior season. My dad and I talked numerous times about not returning too soon—we knew the most important game was in mid-November. But we also both knew that as soon as I was ready to play, I would be back on the field.
So 15 days after the hit and one day following the team's huge conference win at Wooster, I was back on the practice field, rejuvenated and ready to unleash everything I had over the next three weeks to clinch a playoff berth. I knew going into it that the next two weeks would be tune-ups for November 14th. Every weight that had been lifted at 6 a.m. in January, every sprint that we had run in 90-degree heat in July, everything we really cared about could be won on November 14th. And that was our focus.
In 2008, not long after our nightmare loss to DePauw on our home turf, it dawned on me that the 2009 Monon Bell game would be played on a special day for my family and me. It also dawned on me that I would likely feel more pressure to win that game than any game in my life. My mother made sure the game never left my mind, reminding me with less-than-subtle text messages, encouraging me to work hard so we could finally beat the team that had plagued me for two years.
As badly as I wanted to win another conference title, as badly as I wanted to compete on the national scale and make Wabash a relevant program in Division III football, nothing compared to how badly I wanted to win that Bell. I don't think there is a player on our team who wouldn't have traded a conference title ring for the experience of hearing the Bell ringing all night long after winning it.
Our campus had not been the same since we had let the Bell slip out of our hands two years ago. Two freshman classes had not heard the Bell at the start of their Wabash experience. Over half of the campus had never seen it but in the hands of DePauw. This game transcended football—more so this year than any year I could remember. We were desperate to hear it, to have it in our hands, to escort it around campus on a brisk fall evening. I believed that winning back the Bell would not only be a great accomplishment for our team, but could help the College get its swagger back when we needed it the most.
I was miserable during Bell Week. I've never felt so much pressure to perform in my life. I only added to the pressure when I all but guaranteed victory in my Chapel speech two days before the game. What would people say if I went out and threw four interceptions like the previous year? What would I say to myself?
On top of all that, my father's 50th birthday, by the grace of God, fell on the very day of the Monon Bell game.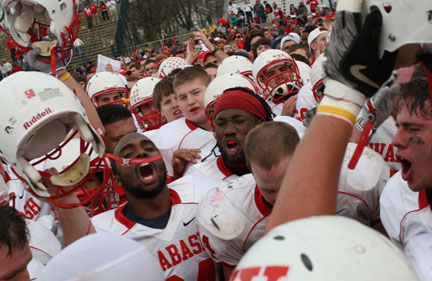 But even as the pressure mounted throughout the week, I became more and more confident that every player on the team would step up.
For the first half of the game, I was incredibly nervous. I was inaccurate—I missed open receivers, I forced the ball into tight spots. It was beginning to look like I wouldn't deliver on the promise that I had made.
But our defense stepped up and made the plays necessary to put us in a position to win. By the end of the first half, we were only down 7-6, and there was not one person in our locker room who didn't believe we were going to win that game. And in the second half, we played our best game of the year on both sides of the ball.
After we scored our last touchdown to go up three scores with about five minutes left, I began to feel it—the culmination of everything we had worked so incredibly hard for. As the seconds ticked off the clock we were overwhelmed with joy. There were shouts of elation, hugs with our teammates, and the pleasure of finally getting to ring that Bell.
But my joy came out in tears.
All year long I had thought about what I would do once the game was over, how I would celebrate with my dad on his birthday. But nothing seemed sufficient. So on the spur of the moment, I grabbed a game ball and, as my teammates and the Wabash students streamed onto the field, I ran the other way to the visitor's bleachers. Dad met me in the aisle and we embraced, tears in our eyes as we finally exorcised the demons that DePauw had given me. It was a moment I will play over in my mind for the rest of my life. We had done it, and there was no better feeling in the world.
The 2009 Monon Bell game may be remembered by most for Coach Raeburn's gutsy call of a play we had never run, on fourth down from our own 18, but that's not how I will remember it. Although that quarterback sneak will always have a special place in my heart, nothing will stick in my mind quite like that moment after the game, embracing my father on his 50th birthday, having overcome the obstacles of the previous five weeks.
Although we ended up 9-2, there is only one way for me to describe our season.
Perfect.