Voices: Be Well, Do Good Work
by Garrison Keillor
Printer-friendly version | Email this article
WM asked writer Garrison Keillor, host of A Prairie Home Companion and The Writer's Almanac, for his take on the question we'd been asking Wabash alumni for this issue.
Here is our correspondence and complete answer, as it appeared on the "Post to the Host" page of the show's Web site.
Dear Mr. Keillor,
As a longtime fan of A Prairie Home Companion and a daily listener to The Writer's Almanac, I find both comfort and encouragement in your fatherly sign-off for the latter program: Be well, do good work, and keep in touch.
But I've often wondered what you mean when you say, "Be well." How do you define well-being? What do you do to achieve it?
—Steve Charles, Wabash College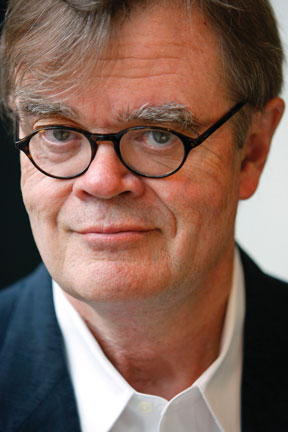 I'm at the age when people tell me, "You're looking good," in that tone of voice that says "for a guy your age."
For me, well-being has a lot to do with forward motion. I need to have deadlines, a list of projects, people who rely on me, some ambition on my back like an outboard motor.
Good health is good, of course, and you don't want big black splotches showing up on the CAT scan, but my sense of well-being comes from waking up each day with work to do.
It was different when I was in college: the work was imposed by teachers and so much of it seemed irrelevant, make-work, a lot of pointless exercises. What you hope for in life is a sense of a calling, a vocation, which simply means that one goes to one's work gratefully, not out of fear or habit but with a whole heart. It's the whole-heartedness that makes for well-being.
Everyone has to live with a degree of doubt and restlessness, but there's nothing like enthusiasm, especially when you're 67. I have a plumber in my house right now, working to repair a pipe that broke when it froze and rebuilding part of a jerry-rigged heating system, and it is so clear to me that this man loves his work. So does my internist. So do the women who care for my ancient mother. So do the musicians on the radio show and the writers of the Almanac. Thanks for your note.
—Garrison Keillor