Ingram Lands NSF Research Grant
by Jim Amidon
Printer-friendly version | Email this article
Wabash College Biology Professor Amanda Ingram's research on chloridoid grasses just got a major boost when the National Science Foundation awarded her a four-year grant of more than $217,000.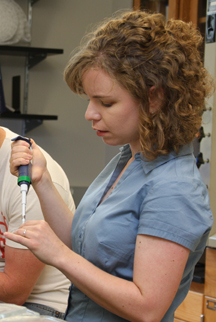 An Assistant Professor at Wabash since 2004, Ingram will collaborate with Claremont Graduate University Associate Professor Travis Columbus, who is also a research scientist at the Rancho Santa Ana Botanic Gardens in Claremont, California.
"Travis and I have both been working on separate parts of the chloridoid subfamily for many years," said Dr. Ingram. "This grant gives us the opportunity to combine efforts and give us a picture of how the many genera in the subfamily are related. We're also focusing on how floral arrangement has evolved in this group of grasses."
Chloridoid grasses are a large group of approximately 1,500 largely warm-season, tropical, and subtropical species in 150 genera. The subfamily includes economically important species grown as cereal crops (tef, finger millet) and a variety of turf grasses. These grasses have tremendous variation in the arrangement of their flowers (inflorescence).
"Despite the economic importance of some of these grasses, relatively little is known about the relationships among the species or the genetic regulation of inflorescence development," said Ingram. "These issues will be addressed through our research."
Specifically, Ingram and Columbus will use DNA sequence data to reconstruct the evolutionary relationships of all 150 genera and approximately 500 different species and devise a new classification. Inflorescences will be studied from early in the development of the plants to maturity to characterize the differences in an evolutionary context.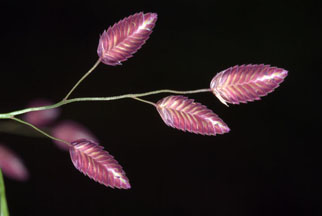 "Understanding the evolution of the group and the regulation of inflorescence development can have important implications for crop and turf improvement and potentially increased crop yields," Ingram said. Ingram will focus her work on a tribe of chloridoid grasses known as Eragrostidae, and will employ two Wabash summer interns in each of the next four years. She even hopes to involve Wabash students in the work at Rancho Santa Ana.
"Rancho Santa Ana has a unique summer program that involves spending two weeks at the botanical garden, learning about methods in plant systematics, ranging from DNA sequencing to electron microscopy, with additional time in the field exploring the California flora," said Ingram. "I hope to send Wabash guys to that program, as well."
Fieldwork will be another important component of the project. During the 2010-2011 school year, Ingram and Columbus hope to spend five months collecting plant materials in Namibia, South Africa, Tanzania, and India.Fieldwork will involve the collection of whole plants, which will be pressed and dried for later study. In addition, bits of leaves will be preserved in silica gel and brought to the lab for DNA sequencing, while various plant parts will be preserved for anatomical and morphological study.
"This work will also provide useful information on the grasses' habitats, and we can make important contributions to ongoing ecological studies in-country," said Ingram. "We collaborate directly with local scientists and share with them all of the materials we gather.
Ingram began her research of chloridoid grasses 10 years ago while working on her Ph.D. at Cornell University. She's thankful for the support she's gotten from her colleagues in the biology and chemistry departments.
"It's very difficult to get NSF funding, as funding rates are low," she said. "It's particularly hard for faculty from small schools to be competitive because our first priority is teaching, so it takes a long time for us to get enough preliminary data to submit a high-quality proposal. It also costs a lot of money to do this work, so I'm grateful that the college has had the resources for me to be an active scholar in order to be competitive for grants like this.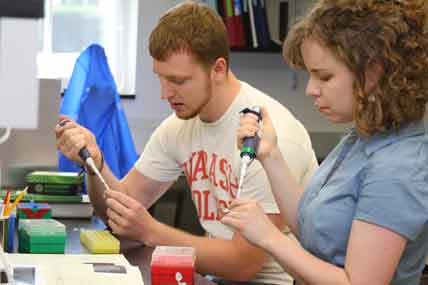 "Institutional funding was absolutely essential for me to continue my research in laying the groundwork for this grant. Laboratory start-up funds help Wabash be competitive in hiring, and it was certainly important for me."
"Amanda Ingram's success in landing an NSF grant in an intensely competitive environment is a tribute to her quality of mind and research," said Dean Gary Phillips. "Her commitment to teaching excellence, coupled with substantive research with students, is Wabash teaching at its best: engaged, demanding, face-to-face. This is the faculty presence that marks Wabash teaching, teaching that makes a difference in students' lives."
In addition to working with Wabash student interns, Professors Ingram and Columbus will collaborate with graduate students and a post-doctoral scholar, and their work will be widely disseminated through journal web articles.