In God Nothing is Lost: William C. Placher '70
Printer-friendly version | Email this article
"Only Beyond Death can we really hope for eternity. It is probably best not to even attempt to Imagine what this will be like, but simply to trust that in God nothing is lost."—Bill Placher '70 from Jesus the Savior
On November 30, Bill Placher died.
Even those with only a passing acquaintance with Wabash understood the stinging gravity of that statement for the community Placher loved.
The death of the LaFollette Distinguished Professor in the Humanities brought more people to the Wabash Web site than any event in the College's history.
An only child, Placher once described his father, Carl, in words Bill's own students often used for him—"the best teacher I ever met." He had written in his acclaimed book The Triune God that his mother, Louise, "modeled for her son that love which the doctrine of the Trinity implies lies at the very core of all things." As news of his death spread, even those grieving deeply for Bill Placher were heartened by how vast his extended family had become.
"It is the season of eulogy—the good word. But our best word has been silenced," Placher's colleague and former teacher Raymond Williams H'68 said during the second of two services honoring Placher in the Wabash Chapel. "We have tried to fill the void."
Many of those good words were posted on the College Web site. They came from childhood friends, Wabash classmates, current and former students of the nationally recognized teacher, colleagues from the academic community and people of faith, those who had worked alongside him for decades and those whose only acquaintance came through his 13 books or his numerous articles and essays.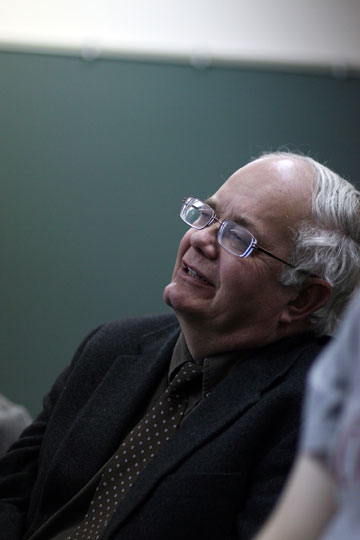 The editors of The Christian Century offered this tribute on the publication's opening page: "As a theologian, Bill had an unparalleled ability to get to the heart of an issue and to write in a way that those who are not professional theologians could understand. He never tried to dazzle you with his knowledge. For Bill, theology was too important to leave to the professional theologians—it was something that the whole church needed to care about and talk about. As both a proponent and practitioner of that view, Bill had no equal."
Rev. Charles Hammond recalled Bill's work on the Presbyterian Church U.S.A's statement of faith: "In frustration, the committee took all its drafts and all its paper, shoved them in front of Placher and said, 'You write it.' Of the whole group he was the most trusted and respected and the one who came to the room with no preconceived agenda or special pleading."
Bill's reach proved ecumenical.
"My last visit with Bill was in 2005, and we talked about lay leadership in the church or, in my case, a synagogue," wrote Larry Zommick '72. "There is a tradition in Judaism that the worthy and pious spend eternity studying Torah with Abraham. I have no doubt Abraham will be better for the experience of studying with Bill."
"Bill was one of those human beings who seemed so at home with what he said and who he was that you never felt he had to press himself upon the situation," said Nadine Pence, director of the Wabash Center for Teaching and Learning in Theology and Religion. "He would listen attentively, and then come up with these wonderfully wise comments which would both capture the sense of the conversation and move it forward."
Placher once wrote, "The best way to show our love to the whole world is to love with a particular passion a little part of it." At a student-led Chapel, Professor Bill Cook '66, who gave Placher his first tour of Wabash when the Peoria High School senior visited the campus in 1966—told the Wabash community that Bill had the "most important trait of a good teacher—generosity.
"You were his family, and he loved you."
Calling Bill his "closest and oldest friend," Associate Professor of Religion David Blix '70 recalled a wrestling match in Martindale Hall during Placher's freshman year.
"Several guys were trying to take down [freshman] Tom Roberts. I had no skill in this sort of thing, and stood off to one side. But Bill, with what I later came to realize was a remarkable agility, had gotten down on the floor, crept up behind Tom, and seized his leg. He wrapped his arms around it and hung on for dear life. Tom tried to pull his leg away. Bill grabbed tight. Tom pulled again. Bill held on, and started to laugh—and at about that moment, Tom went to the floor. Bill got up and took his seat as if nothing had happened."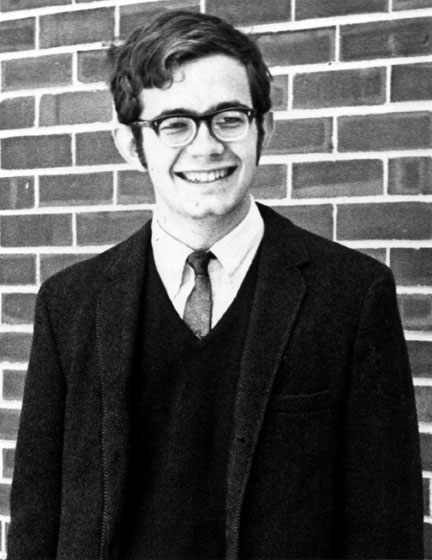 Placher had called Hugo-award-winning author Dan Simmons '70 "my first editor," as Simmons edited the student underground journal The Satyr for which Bill wrote. "His writing then was as eloquent, fair, scholarly, and humorous as his much more famous writing since, but perhaps it was a touch more irreverent then," Simmons recalled. "His commencement address is the finest and most appropriate context talk I've ever heard. Bill was one of those upright pegs that holds down the world in even the strongest winds of change or controversy or confusion."
President Pat White called Placher "the moral and intellectual center of the College."
Placher's pastor and former student John Van Nuys '83 gave the sermon at the memorial service: "As a professor, Bill challenged us to think harder and better about the deep mysteries of God's amazing grace. As a person, Bill blessed us with the kind of care that made God's grace so evident that it was no mystery at all."
2006 John Maurice Butler Prize winner Wes Jacks wrote, "My senior year I took on a particularly difficult role in a play and before opening night I was a mess of nervous energy. While pacing backstage prior to the opening, I heard Bill's laugh drift through the curtains. Just his laugh. And a weight fell from my shoulders. I knew he was there because he wanted to support me. I knew, even if I fell flat on my face in front of the crowd, he'd still be there smiling at the end of the show, offering words of encouragement."
Former student and colleague Professor Steve Webb '83 has said that, "for Bill, teaching is really the art of creating good conversations." Sean Foster '08 wrote, "He never directly asked me to consider why I am here and what I can do to help the world, but the discussions we had never let those questions leave me."
The words of Washington, DC attorney Ben Robinson '01 reveal the many ways Placher could affect his students: "Bill's examples of patience, humility, and love were teachings as valuable as any I would take from the classroom. Some of my happiest times were spent sitting alongside Bill in Center 214, asking one more question so I could stay in his office just a little longer. And I cannot recall a more content, peaceful feeling than what I felt on those Wednesday mornings he preached in the Tuttle Chapel. Bill encouraged me to travel to Israel, where I would meet my wife. We settled in Washington, DC, but not before he introduced me to a dozen other Wabash men he had mentored over the years. Today, I sit just down the hall from one of those individuals I met while still a student at Wabash.
"The College has lost one of its best, but Bill Placher lives on in all of the students, prisoners, congregants, and friends he has touched. I think Bill is the reason I continue to stop and enter the Lincoln Memorial in the middle of a long jog, just to read and recite Lincoln's Second Inaugural. He comes to mind first when I hear Stravinsky, encounter Kafka, or drive across a long bridge."
Hugh Vandivier '91 wrote: "That is his legacy; even his loss opens us up more to God."