Speaking of Sports: Obliged to Return
by Brent Harris
Printer-friendly version | Email this article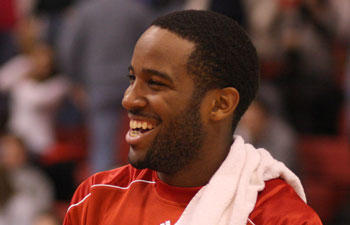 When Dominique Thomas '11 packed his bags and closed the door to his room in College Hall last year, he thought he might never return.
Finishing his freshman year, the Moss Point, Mississippi native was ready to head home, transfer to Ole Miss, and restart his studies after a tough first year at Wabash.
Two opportunities would change those thoughts and send Thomas back to Wabash with a whole new outlook.
"I was ready to go home," Thomas says. "I came to Wabash open to the idea of either studying to head off to medical school or law school after graduating, but I really didn't have a set plan. I thought I would play some basketball and figure out what I wanted to do as I went along."
The basketball season was a tough one for Thomas. An all-conference and all-region player as a guard for the Moss Point Tigers, Thomas played in 11 games for the Little Giants. He scored nine points in his rookie campaign.
One event midway through his freshman year forced Thomas to re-evaluate his choices and in some ways set him on his current path.
"My roommate and teammate, Wes Smith, and I came home one night and found the words 'Die Nigger' scratched into our door at College Hall. It happened during the break between the fall and spring semesters, so most of the Wabash student body had gone home for the holidays while Wes and I were still here for basketball practice. It's something I will never forget."
The two contacted senior teammate, mentor, and the Malcolm X Institute for Black Studies Chairman Earl Rooks '08. Rooks came over to their room immediately, helped them contact the dean's office, then put them in touch with Professor Tim Lake and Amina McIntyre from the Institute.
As the College launched an investigation and contacted authorities, Thomas received support from his teammates, members of the MXIBS, faculty and staff, and other students. Still, he wasn't completely convinced he would be returning to campus for the 2008 fall semester.
"My brother was at Ole Miss and I knew I could be comfortable there. I would be close to home, even if it meant hanging up my basketball shoes at the varsity level. I thought it would be an easy way to put everything behind me. I left Wabash for Mississippi, truly believing I had seen Crawfordsville for the last time."
Then Thomas received a call from the associate dean of the University of Mississippi law school, Ron Rychlak '80.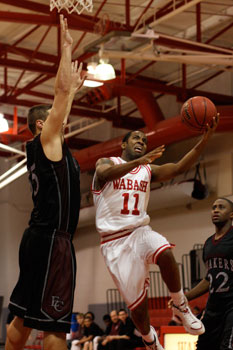 "Dean Rychlak told me it would certainly be good to attend Ole Miss, but I could be just as well prepared for law school by staying at Wabash. I got calls from other Wabash alums who are also attorneys, such as Lee Cline '66, who recruited me to Wabash. They provided a lot of good advice. I spent a lot of time talking to them and to my family. In the end I decided if I really wanted to be a good attorney, I needed to go back to Wabash. I needed to take the experiences of my first year and use them to become a stronger person and not run away from them."
"Wabash has great teachers," Rychlak says. "Few major universities do (though we do pride ourselves on instruction here at Ole Miss). For me, my economics classes at Wabash taught me to think problems through in a manner and to a degree that was invaluable for law school. In my other classes I learned a great deal about writing, about differing viewpoints, and about life. Any college might do that for you. Wabash will do that for you."
If Thomas had any lingering doubts about heading back to Wabash, they were erased with a final piece of the puzzle. Through his contacts with Wabash alums, he secured an internship with the Shaddock Law Firm in Pascagoula.
"George Shaddock and I have known each other since 1988," says Cline, a fellow attorney who recruited Thomas to attend Wabash. "I knew George had met Dominique when he was working in high school as a bag boy at the local grocery store. George needed some summer office help and hired Dominique to assist in the office."
Thomas thought his role at the defense attorney's practice would be restricted to filing paperwork and helping out as needed. He was completely mistaken.
"The first day at the firm I went into the courtroom with Mr. Shaddock," Thomas says. "I received a complete hands-on experience, helping to write arguments, working on discovery in murder cases, then being thrown into a sexual battery case as soon as that was completed. We got a 9-3 jury swing in one murder case.
"I was thrown into the line of fire. I was put into the role of lawyer and found it sparked something inside me. I fell in love with the law."
His boss, George Shaddock, advised him to return to Wabash.
"I told him, 'Wabash made a commitment to you and you made a commitment to them.' I think going back this year shows he understands his obligation," Shaddock says.
Thomas rolled back into Crawfordsville in August to prepare for his sophomore year with a completely different plan. He's back on the Wabash basketball team, where he scored a career-best 17 points coming off the bench in the first game of the Pete Thorn Tournament to help guide the Little Giants to the championship contest. He added 16 points in the North Coast Athletic Conference Championship game.
He also plans to use his experience in the courtroom to prepare for next year's annual Moot Court competition at Wabash.
"Everything I went through last year was really a learning experience," Thomas says. "My family told me to have a good reason to leave if I decided not to return to Wabash. But when all was said and done, I got to see how people around me care and react—from my classmates, to people at College Hall, my basketball teammates, members of the MXIBS, and Wabash alums in Mississippi. It was amazing to see how many people really are there to help you."
George Shaddock is impressed with Thomas' judgment.
"He has his feet on the ground now and knows what he wants to do," Shaddock says. "I'm looking forward to having him back in the office this summer."