Working the Problem
by Howard Hewitt
Printer-friendly version | Email this article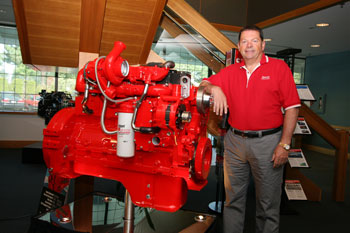 Thrust into the "energy crisis" at the beginning of his career, Wesport Innovations President Mike Gallagher '68 worked for decades to close the gap between energy production and environmental awareness. His company's natural gas engines could be that bridge to truly "green" power.
VANCOUVER, B.C.—Mike Gallagher '68 didn't realize it at the time, but a seemingly innocent visit to the first-ever Earth Day celebration in April 1970 shaped his career as a leader in energy and the environment.
Today Gallagher is president and chief operating officer for Westport Innovations in Vancouver, British Columbia, a leader in developing engines to operate on clean-burning alternative fuels. But the man with a self-proclaimed "passion to get the world off of oil" has been pushing the boundaries of energy technologies and alternative power systems since long before most people were talking about fuel conservation.
And the turning point was that Earth Day at Stanford 39 years ago.
Newly married and having just completed his physics and mathematics degree at Wabash, Gallagher moved to California and Stanford University in 1968, where he earned his Ph.D. in mechanical and nuclear engineering and, simultaneously, master's degrees in engineering economic systems and mechanical engineering.
He'd been on the West Coast about a year and a half when he attended that inaugural Earth Day celebration.
"That environmental thing really connected with me as part of my California move. I got into the mountains, backpacking, hiking, and the Sierra Club," he says. "So in my Stanford days I got into energy—not just energy technology, but our energy systems and the economics of energy supply and demand.
"I remember feeling a little bit out of sync as a nuclear engineering graduate student. Most students that day, if you'd asked them, would have said, 'That's not a field most of us want to go into right now.'
"It was right in the middle of the Vietnam War and all of that. I felt then that I wanted to make that environmental ethic and passion a little more central in my life."
So instead of working as a nuclear engineer, Gallagher went to work in energy technology and energy planning, focusing on worldwide energy supply for the Bechtel Group in San Francisco. Then came the Arab Oil embargo.
"I just kind of landed in the middle of what people often call the energy crisis, and between the environment and oil," he explains. "That really set the stage for everything else I've been doing since."
Gallagher's career path to Westport has taken him literally around the world. On leave from Bechtel to MIT for 18 months, Gallagher helped an emeritus professor there and groups representing 16 different countries to write two books on the world energy outlook. After Bechtel, he worked for the Norwegian multinational engineering firm, Kvaerner Group, on various energy-related projects, then joined Fluor Corporation as vice president of operations for the Americas in 2001.
Meanwhile, his two children were pushing him toward tech companies.
"Both my kids had some experience in software companies and had always told me, 'Dad, you need to get into a tech company.' And I always said, 'I'm not a computer guy; what am I going to do?' Little did I know that everything I'd been working on for 30 years caught up with me and had become tech companies. So today you've got this massive tech industry called clean tech. It's a combination of environmental technology companies and energy technology companies with a big emphasis on renewable technologies: solar, wind, biofuel, biodiesel, and then this little thing we've got going now.
"It all goes back to an early passion of getting the world off oil. Suddenly, I found [Westport], a company that's trying to get the world off oil in trucks and buses with natural gas.
"I felt it was a great way to take everything I had learned and apply it to a fast-growing technology company," Gallagher explained to investors on an industry Web site. "A place where I could work with some of the brightest young talent around to transform Westport from an R & D company to a full commercial company, making a serious contribution to solving some of the world's oil, energy, and environmental challenges."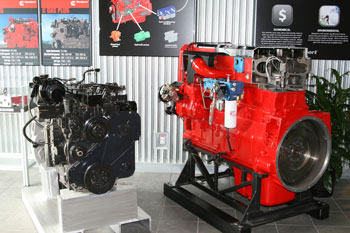 Westport is in the early stages of putting natural gas-powered trucks on the nation's roadways. Natural gas has fewer emissions, is cheaper, and is plentiful. West-port's Web site calls it "the bridge in the inevitable transition away from petroleum to hydrogen."
Westport partners with Cummins, taking engines from a North Carolina plant and converting them to natural gas. Of course, one of the challenges of such engines is finding places to refuel, so the company has focused largely on trucks that have a central refueling station, such as garbage trucks or bus fleets.
"You can't pull up to a natural gas refueling station in too many parts of the world. We're having to work hand and glove with the people who build those stations to make sure they get it built at the right time and place."
The company is truly international—one of the biggest natural gas fleets is Beijing, China, with 2,500 Westport engines. In the U.S., the business has largely focused on California, though Gallagher sees tremendous potential for the business.
"If you're a diesel fleet owner today, running up and down I-65, and you want to do something different either because somebody decided you need cleaner trucks or the $5 diesel price is driving you out of the business, the only choice close to available today is our Liquified Natural Gas (LNG) system."
Westport is just 12 years old and has invested approximately $250 million in the technology, Gallagher says. There are about 20,000 Westport engines on the road. But part of the challenge is building not just a new company but a new industry. Westport has partnerships with more than 30 suppliers building parts for its products.
The trucks are more expensive now than their diesel ancestors and will remain so until mass production becomes a reality. Still, the fuel is cheaper, and many states offer substantial energy credits for the cleaner vehicles.
Gallagher says the future is undoubtedly headed toward a gaseous-fueled industry as opposed to a gas and oil fueled industry "that could well transition into something like a hydrogen industry/economy, whether it's fuel cells or hydrogen internal combustion engines."
Despite recent reports promising a hydrogen solution to world energy woes, Gallagher believes mass production of that technology will "postdate the end of my working career. It's a real ways off."
When pressed, Gallagher sees his career as having an impact on "this array of terribly vexing human problems around oil, energy, the environment, and now climate change. I'm very proud that I've kept at it. By building this reservoir of experience and understanding and knowledge and connections and staying with the same problems, I've been able to make increasingly more interesting contributions."