There's Got to be a Better Way
by Howard Hewitt
Printer-friendly version | Email this article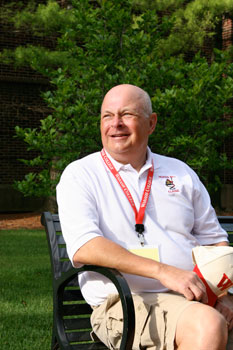 Lee Grogg saw a broken mental health system and hundreds of mentally ill people who had "lost their identity" and thought.
Lee Grogg '68 says the mental health system does a "crappy job" of taking care of kids.
He's a passionate fund raiser and child advocate.
Colleagues and friends hail Grogg for his groundbreaking leadership in the mental health field. When future generations of Wabash men learn the College mission statement and discuss "living humanely," they might be talking about this smiling, soft-spoken man.
Grogg spent 26 years in northwest Indiana building the Porter-Starke County Community Health Center from a single employee to a staff of more than 250 today. Now he leads a Seattle residential center for children who have suffered mental health issues, been abandoned, or been abused.
The director of Seattle's Ryther Child Center has been honored throughout his career. Most recently, The National Association of Wabash Men honored Grogg at Homecoming 2008 with the Fredrick J. Urbaska Civic Service Award for his lifetime contributions in mental health and child foster care.
Grogg's own words reveal the depth of his passion and commitment to helping those who struggle to help themselves.
"I saw, literally, hundreds of chronically mentally ill people who had lost their identity, had lost everything, and were pretty much warehoused and frequently mistreated and almost always neglected," he says of his years in Indiana. "I thought, There's got to be a better way. So part of my mission was working very hard to see if we could keep people out of the state institutions."
Grogg and his colleagues' efforts paid off.
"We had the lowest rate of state hospitalization in Indiana—not by a little, but by half.
"We needed to get passionate about it—to realize that something really needs to be done here. It was about helping mentally ill people live in the community and have decent lives."
Grogg admits that he took the job in Porter County with no management experience and no idea where it would lead. "I wasn't qualified," he says. "I didn't know anything."
But he went to work and changed the mind-set of the mental health community by running the center like a business.
"We went after the private dollars as much as we went after public dollars in the belief that mental illness was and still is almost as much a political disease as it is an economic disease as it is a medical disease. People who get their resources exhausted get shuffled into the public system where they're powerless. They don't have a voice.
"Our approach is that we're going to treat everyone as a customer—as a paying customer, and thereby give the client a different status."
The Porter-Starke County Community Health Center treats every client as a customer. Grogg even fought with the Indiana Department of Mental Health when he insisted every client pay something, "even if it was just 50 cents."
His early stubbornness paid off and became a model for others.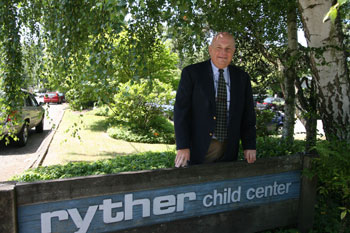 "It wasn't very long before we had established ourselves as the most self-sufficient mental health center in Indiana," Grogg says, "Only about 40 percent of our funds were pure state dollars. That was something I was real proud of—we had a significant private-pay clientele. Everybody got treated like they were paying customers. And that makes a big difference in mental health. Basically, our clients were treated equally."
Hoosiers still marvel at his accomplishments.
"During Lee's 26 years at Porter-Starke, the agency came to be recognized as the preeminent provider of mental health services in Northern Indiana," says Randall Zromkoski '81, president of Porter-Starke Services Board of Directors. "During the course of Lee's tenure, the agency provided more than 500,000 outpatient visits and helped more than 50,000 individuals. Each of those individuals was touched by the incredible dedication, compassion, drive and innovative thinking of Lee Grogg."
Grogg led the agency through near bankruptcy and recovery. By the time he left for Seattle, the agency had a $13 million annual budget. He was proud of his accomplishments at Porter-Starke and felt he'd accomplished much.
But he also was beginning to feel it might be time for a change. He had been divorced and had met his future wife at a Seattle conference in 1996. He knew Ryther was looking for an executive director, so he moved to Washington.
The challenges he faces are with children now, but his passion remains the same.
"I've found that the mental health system has done a really crappy job of taking care of kids," Grogg says. "We just don't do a very good job; nobody does. I don't think the mental health system should take care of kids, because they don't know how to do it. They know how to treat mental illnesses, they do diagnoses and medications, but there's more to raising a kid, fixing a kid, than that."
The children at Ryther are in at least their second placement. They've already had issues in foster care and need additional structure and professional guidance.
"With these kids our work is seeing what we can to do to give them a shot. A lot of them are so badly damaged that they're probably always going to need some help, but you can do something. You can make their lives a little bit better."
Grogg has instilled his same business philosophy and caring attitude at the legendary Ryther Center. "I had never specialized with children," he says. "The kids are just incredibly inspiring. There are kids who've been profoundly abused and neglected. Some are just horrific stories and they're pretty severely disturbed. But they are still kids. They smile and laugh. It's just very motivating. It's very hard, too."
He started new programs at Ryther, which was founded in the 1880s as an orphanage, and has tackled fund-raising to the point he where spends nearly 30 to 40 percent of his time raising money.
"Lee is a tireless advocate for the children of Ryther and the foster-care system in Washington," writes Larry Zommick '72, a Ryther board member. "I count my years with Ryther and Lee as a watershed in my own development as a civic-minded person.
"Lee Grogg is the man that Dr. Eric Dean wanted us all to become."