Inside the Swoosh
by Howard Hewitt
Printer-friendly version | Email this article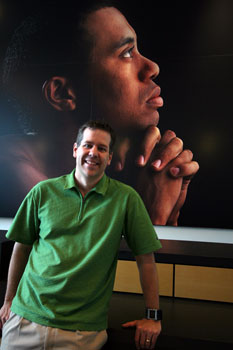 A self-effacing Wabash philosophy major and devoted father is Nike's liaison with Tiger Woods
BEAVERTON, OR—Nike shows up on practically every magazine or Web site's "Top 100 Greatest Places to Work" list. There is a freewheeling youth culture on this campus just north of Portland that oozes "cool."
"Had someone told me at Wabash that I'd someday be working here at Nike with Tiger Woods, I would have questioned why they would want me," says Dan Schenk '95 when asked if he ever imagined himself in this epicenter of cool. "I can honestly say that I've never thought of myself as 'cool' in any way. I've always been that guy just outside the circle."
He may be outside the circle, but he's inside the swoosh. Schenk is a Senior Product Marketing Manager for Nike Golf. He works in marketing but also with pro-duct development teams.
"My job is to see what's coming up," the Mt. Vernon, Indiana native says. "I sift through what's important and use it. I manage someone who does golf balls and another who does footwear and apparel. I work with them on how to tell the story."
That's where Tiger Woods comes in. Schenk works with him two or three times a year. He finds the greatest golfer in history to be just like the guy next door—just a guy who has a singular understanding of his job on the golf course and marketing Nike products.
"Tiger is part of how the product performs," Schenk explains. "He feels everything. He can test a driver and tell if the weight is even slightly off. And he's right. That kind of feedback is incredibly important. From the marketing perspective, it's his authenticity. He's the uber golfer who spends more time on the greens, more time playing the game than anyone else.
"He has an interesting insight into what the sport is about. That's what we try to capture."
Dan stands behind the camera asking Tiger questions for online marketing promotions. "He's the story. He makes it. It's helped me that when I'm with Tiger that it just becomes a conversation. I'll ask, 'Tell me this?' or 'Tell me why?' 'Let's pretend the camera is off. Tell me what you want to say and not what you think I want to hear.'"
Schenk thinks back to that question about being "cool."
"That skepticism about being 'cool' actually makes me a great steward of our brand and athletes," he says. "Bot-tom line—you can't fake it, so it needs to be authentic."
Schenk says his experience as both a student and a member of the staff at Wabash shaped his personal and professional life in profound ways. He met his wife, Amelia, while working a college fair in Phoenix, Arizona for the Wabash Admissions Office.
"I had been recruiting fellow counselors to join me for a drive to the Grand Canyon on our day off, and Amelia initially said 'yes,'" Schenk recalls. "On the night before the trip, a couple of other people backed out. I'll never forget calling her and saying, 'It will just be me and you, so I totally understand if you'd prefer not to go.' Her answer was simple—'It sounds fun.' Ten hours later we'd covered religion, life, family, friends, the inscriptions we'd like on our tombstones, and the inspiration of nature. It was the perfect first date for a philosophy major!"
On the professional side, Schenk got his start in marketing in the Wabash Admissions Office developing recruitment materials. He worked with an advertising agency to shape the College's message from a student perspective. He continued that work as a recruitment officer for admissions after graduation. After those experiences, he wanted more. He started to think about graduate school and ended up going to Indiana University and getting his MBA in 2000.
"What I really got out of my time working at Wabash was the challenge of marketing something and bringing that to life," he says. "That just kept burning in me more and more."
Still, at times he felt odd as a philosophy major going to business school. "I knew in my heart the marketing experience at Wabash with the sales side, the customer service side, would pay off. I knew what I was doing there. Wabash College is a brand. It's probably one of the most premium brands to work for. I also knew that someone looking at a resume might not see that right off the top."
Fortunately, the man who interviewed him at General Motors, his first job out of grad school, was uniquely equipped to see just that. The interview process was unique—the company would interview young people as potential employees and then decide what job to place them in. Executive Steve McGuire '84 spotted Schenk and offered him a job in digital marketing.
"This guy told me he was familiar with Wabash College and thought I'd be a thinker," Schenk recalls. "So I asked how he knew Wabash, and he said he was a 1984 graduate. He became my entry point to GM."
Schenk went on to work for Chevrolet in the infancy of Internet marketing. He credits that time with shaping his marketing philosophy.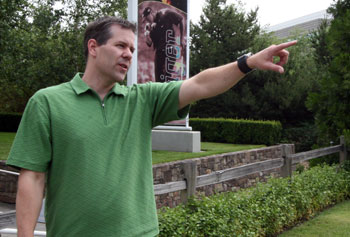 "I was sitting in the room with the guy who basically created the 'Like a Rock' campaign for Chevy. He wanted to put more money in the market and commence with 'push marketing.' And here I was, with Steve saying we want to create an environment online where consumers come to us. We want them to come to chevy.com because they want to know about fuel-efficiency standards. They want to know about the new car. It really was more about serving the consumer than convincing the consumer."
Chevy had abundant resources for online marketing, and that advantage allowed Dan to try his own approach. "People are not watching a sporting event and watching our ads show up. They'd rather be getting a drink or going to the bathroom. On the Net, they're coming to us to interact with us. That's a huge deal when you think about today's society. That's the core thinking behind this entire model. What are we doing to serve their needs?"
He eventually moved from Chevy to become Pontiac and GMC's interactive marketing manager. But it was also during this time that he and his wife, a Portland native, started talking about a move. GM was downsizing and offered employees a voluntary buyout program that Dan took advantage of at age 30. So the young couple pulled up roots and moved to Portland.
He got to spend five months at home taking care of his daughter, and then in the seventh month he went to work for Nike.
Today he is immersed in the Nike culture. Dan wears shorts, T-shirts, and sandals just like the predominantly young workforce. The employee benefits and perks are unique.
"This place feels like a college campus," he says. "You have athletes, meetings, highlight reels, and all of that is pretty cool. It's not unlike when you first start dating someone; it's all flash and pizzazz. But as I have come to know the place, it is about deep clarity of purpose. Everybody really understands the value of a brand around here.
"When you connect on a more emotional level, and you're able to make your brand more than simply about
a product, able to make it something people aspire to, then you're talking about something the consumer is connected with. It's not just buying your product. I think if you lose track of your brand, you won't be able to weather a storm."
The Schenk family just welcomed their third child in the fall. Dan has strong opinions about supporting his family and how that always comes first. When he thinks about his professional future, it gets a little tougher.
"I've always struggled with my plan for work or my career. I think that my plan is to continue enjoying what I'm doing. There's always a part of me that feels like teaching. Maybe teaching high-school language arts or business school type of stuff, which is consistent with marketing."
Again, he credits Wabash for the way he approaches his career.
"I like to make decisions with the information I have available. If along the way I keep making the best decisions, then that beats a plan. Wabash fits that perfectly. My plan was never to go somewhere for four years and figure out a skill and do that. It was to figure out how to figure things out. Respect each other and engage in lively debate. Build confidence in yourself and build relationships with the people you work with.
"I don't think too many philosophy majors apply to business schools. Did I take the quantitative classes because I was a philosophy major? No, it was because I was a liberal arts student. Why would I think I could do a job like I did at GM without any experience? It was because I knew how to think and learn."