Wells '93 Helps Manage Intel Engineers
by Patrick McAlister '10
Printer-friendly version | Email this article
By middle school, Michael Wells '93 had his collegiate career figured out: "From sixth grade on I was going to be an engineer at Purdue," he said.

Then he found out about Wabash. Although he never pursued the engineering track he originally set for himself in middle school, Wells is surrounded by engineers every day. As a project manager for Intel Corporation, Portland, Oregon, he is responsible for managing the engineers that create some of the most advanced computer chips in the world.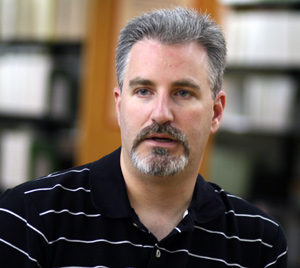 Even at the advent of his senior year of high school, Wells was still focused on attending Purdue that next year. However, after a fall visit and ample time for reflection, Wells finally understood what his family had already figured out: He'd be a perfect fit at Wabash.

"When we visited campus in October (of my senior year)" he said, "I thought the place was pretty neat and decided the week before Christmas to switch from Purdue to Wabash."


"My sister, who is five years older than me visited here from Butler and knew then that I would probably fit in well here. For Christmas I got presents my dad had bought at the bookstore in October knowing I would go here. I think everybody knew before I did."


It was probably a good thing he went to Wabash too. A Wabash education afforded him the opportunity to develop a diverse academic palette, and Wells' was indeed diverse – he was mathematics major, music and history double minor. "I hit all three divisions," he said with a laugh.
Although mathematics is a logical foundation for an engineering mind, music and psychology are not usually at the nexus of the development of design structures. Wells selected his minors with a barometer familiar to many Wabash men – simply focusing in on what he enjoyed.
"I had been a musician in bands and sang for years and so I just gravitated towards the music classes to fill out a distribution," he said, "and then I only needed two more to get a minor. Psychology, I just found interesting."
After his tri-division liberal arts education and a couple of other jobs, Wells landed at a place that could use a man of many skills. As project manager, Wells is responsible for the fluidity in the development of the highly sensitive technology at Intel.
"Engineers make great engineers," the mathematics major said. "They make really poor project managers. I've learned that to appreciate engineers, they have an artist mentality and want to create. They're very smart people - you're in a room with 600 Valedictorians and they really have creative minds. My job is to help manage and track the projects, steer the engineers, keep the goals and scope, manage requirements, and help the project finish on time and on budget."

To complete a task, Wells has three different aspects he can control to get the job done - the scope, cost and schedule of the product.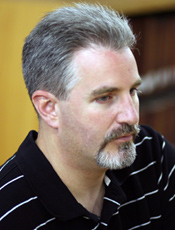 "If the schedule's locked you can throw more people or dollars at it," said Wells. "If you have to adjust the cost you can cut scope, adjust requirements or move them out to another project; or if the scope is mandated, you can throw dollars or adjust the schedule. It's tuning those three dials and getting them to understand where the project is headed and hopefully finished."

Wells admits that one of the three controls - money -- is more prevalent at Intel then the other two.

"Intel's lucky," he said. "We can throw dollars. We earn about $10-12 billion each year, so we can just throw dollars at the program. Dollars is the most fungible resource we have."

With such a fiscal resource, Wells said, its financial strength and sheer dominance in the microprocessor market (Apple recently began using Intel chips in their computers), Intel can afford to continue to create smaller, faster hardware Wells said, adding that he oversees parts of it.

"The typical treadmills of faster and cheaper products are always coming out," he said. "Our new Atom processor for the mobile emitter - we cannot manufacture enough of them."
"That's one of the public knowledge things I can discuss," he added with a laugh.
Wells did, however, allude to what type of microscopic precision a $10-12 billion profit margin can buy. He said that if a single layer of a microprocessor (called a wafer) was the size of the Gulf of Mexico, they couldn't have a height variation in its design of more than a foot.
"The fact that we could do that is amazing," he said, "just amazing control of atoms, molecules and chemicals."
The pace of work at a company like Intel can be intense and the sheer amount of information a team works with can be mind boggling. A single project Wells worked on had over 140 terabytes of data. In this project Wells was responsible for making sure that this data was funneled to the other managers in real time, as to not stall the rest of the project.
"Chart's and graphs are like heroin," he said with a sly grin. "In order to get the same effect you have to have more every week."
Even though he did not take the engineering path of an engineer, Wells' position as a project manager for Intel requires a mind opened to learning engineering - something his Wabash career has prepared him well for.

"I pick up a lot on the tech stuff," he said. "Unlike most of the analysts and program managers in my group when I understand that they want to boost the frequency to widen channels there's a penalty you're going to pay in heat coming off the CPU. When you can understand issues like that and understand where they're coming from you can spot if they are exaggerating reasons why the schedule's flipping or if there are genuine issues."
Wells has even parlayed his project management skills into another technological medium – video games. He's the project manager for a video game startup company that is working on, among other things, a zombie video game.
"I love technology," he added with a smile. "I'm very much a computer geek."