Winter 2008: The Grunge Report
by Tom Runge '71
Printer-friendly version | Email this article
A Sense of Adventure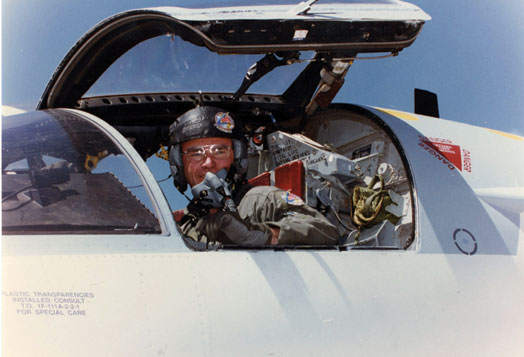 I loved—absolutely loved—flying fighters.
I thank my lucky stars that I fell into flying F-111s as my chosen profession. On Sunday afternoons, I never had that "Oh no, it's almost Monday again" feeling that many of us have with our work. I always looked forward to the week, unless it had too many meetings and not enough flying. Even though I always enjoyed my vacations, a day or two before we'd return I'd start thinking about flying.
When I had to say goodbye to my lovely wife and a 13-month-old son in 1973 to return to Southeast Asia for the remainder of my 12-month tour, I vowed I would get out of the Air Force at the earliest opportunity. Then I flew four of my first five days back and realized I could gut out the separation.
Sure, there's a certain lore and mystique about fighter pilots. But for me, it was much more. It was something new every day. It was fun. Every day was an adventure. The process of flying is a never-ending education—trying to get better each time you lit the burners. The debriefs, where we beat each other up, were often as long as the flights themselves. You always walked away thinking about the things you could do better. I did that on my very last flight, as a matter of fact (Between wiping away the wetness in my eyes from a sudden head cold!).
And it was important. Serving my country made the long days, low pay, and long time away from home more than worth it. And yes, I would go back in half a heartbeat!

Others find adventure in their own way. At the Bell game this year, I talked to AJ Lyman '05 about his career. After serving on an Emergency Response team for Ameri-Corps in St. Louis, and helping the New Orleans area recover from Katrina, AJ has gone to work for a brewery. He said that with a sparkle in his eye that said "I am having some fun now!" He quickly outlined his plan to attend brewmasters school and hopefully start his own brewery. Again that twinkle. To me, it was immediately clear that my flying jets was AJ's next ale. I thought to myself what a great and lucky young man—service to others and a career path that regardless of the bumps in the road would make him smile.
That encounter with AJ reminded me of my visit with Pat East '00 at Pat's company in Bloomington, IN. Pat worked for someone else for a couple of years, saw a need, and made the gutsy move to start his own company. Pat's doing well—really well. I thought I'd thrown him a curveball when I talked to him last and asked what he would do if someone wrote him a big check and bought him out. He looked at me and smiled. Then he slowly, like a cat with the mouse dangling from his teeth, said matter-of-factly:
"I have an idea for another company."
Cory Olson '85 is another guy I admire. He had a phenomenal job as the CFO for a big company. But Cory was interested in doing something unique…different…out of the ordinary. So, he said so long to his former employer and struck out with a couple of guys to form an entirely new company. Cory's crazy busy…but the smile on his face shouts that he's happy and making a difference.
This edition of the magazine has many other stories of Wabash adventurers. Guys who left the 30" x 60" grey metal desk for the challenge and fulfillment of "something out there." Somehow it makes perfect sense, if you've been
educated to think critically, act responsibly, lead effectively, and live humanely…perfect sense.*
—Tom Runge '71, Director of Alumni Affairs; runget@wabash.edu