Speaking of Sports: Playing for Reyna
by Brent Harris, Director of Sports Information
Printer-friendly version | Email this article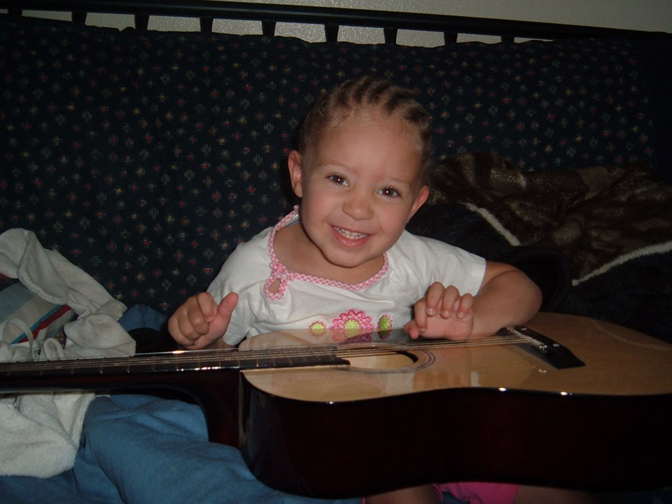 Don't ask Ray Green the final score of the football game between Trevor G. Browne and Carl Hayden high schools in October 2002. Green played the game as a wide receiver and defensive back, but he had more important things on his mind.
That's the night his daughter, Reyna, was born.
"I don't remember a thing about that game," Green says. "We won the game, but I couldn't tell you the score, whether I caught a pass, or anything.
"All I remember is that the game ended and my coach came running over to me. He said, 'Ray, you've got to get going. You're going to be a father.' So I threw on a pair of shorts and a t-shirt and drove 90 miles to the hospital."
Green and his family arrived in time to see Reyna's birth.
"It was a difficult birth," he says, recalling the hard labor and complications Reyna's mother went through. "Reyna started crying the moment she was born, and the nurse handed her to me to hold in the delivery room. She just stared straight into my eyes and stopped crying.
"I wanted to cry, but I couldn't. I was so happy. I knew I was blessed with a lot of good things, and they were all wrapped up in the daughter I was holding in my arms."
Years before Reyna arrived, Green had made a decision about his life that would affect the life of his daughter, as well. He had entered high school with a plan. He wanted to attend a good college and still play college football. With Reyna's arrival, that plan took on a new meaning.
He was determined not to lose touch with his daughter.
"I never thought any other way. I knew I had to step up and take responsibility for my actions. I refused to be another urban statistic, to become another high school student who fathered a child only to abandon his responsibilities to the mother and the child."
So Green continued to work hard at school while dealing with the pressure of being a new father.
"I wanted to still meet those goals regarding college, only now it was my goal to provide Reyna with all the things she deserved. I wanted to be the best I could be to provide the best life for her."
After high school, Green faced another tough choice. The college that met his requirements was Wabash, 1,700 miles from the Phoenix area, where Reyna lived.
Green had spent his senior year at Trevor G. Browne being a full-time father to Reyna. Now the two would be separated by half a continent.
"It was tough," Green says. "That first year I couldn't wait for Christmas break so I could get home and see her. Even today I can't wait to head back to Phoenix for Christmas or spring break, get off the plane, and get home to see her. We go to the park and to movies. We're a family."
As proud of Reyna as Green was and as much as he missed her, he didn't share the news of his daughter with his new friends and teammates when he first arrived at Wabash.
"When I first came here, no one knew about Reyna. As I got to know more people here, I started to open up more. I would start talking more and more about her. People here are so accepting, no matter what the issue. They get to know you as a person and share your concerns. It just made it easier and easier to talk about her and share that part of my life."
Now Reyna and Ray talk on the phone constantly. The Wabash senior is bombarded with questions like, "When can I come to your house" and, "Daddy, will you be home soon?" Ray never tires of those questions.
"I keep telling her Daddy is just away for a little while longer and that I'll see her soon. She's the driving force in my life. All those questions, those conversations, they're what keep me going. They've been a real comfort when I wonder if I can play football and study for classes. I know why I'm doing all of this."
Green, a mathematics major, hopes to work in computer engineering after he graduates this spring. He plans to file for full custody of Reyna at that time. The five-year-old is currently living with Ray's mom after spending the first four years of her life with her mother.
For now Reyna talks to her dad after his games and has watched him on TV during the Monon Bell telecasts. And she's in his thoughts before every game.
"When we start to warm up, I stand on the 22-yard line and face our home stands. I feel the grass under my feet and think about my family, what I'm doing, and why I'm doing it.
"The wind will blow and it feels just like she's hugging me. I'm thinking of her, and I know she's thinking of me. At that moment I know I'm doing all for her."