Daughters: Legacy
Printer-friendly version | Email this article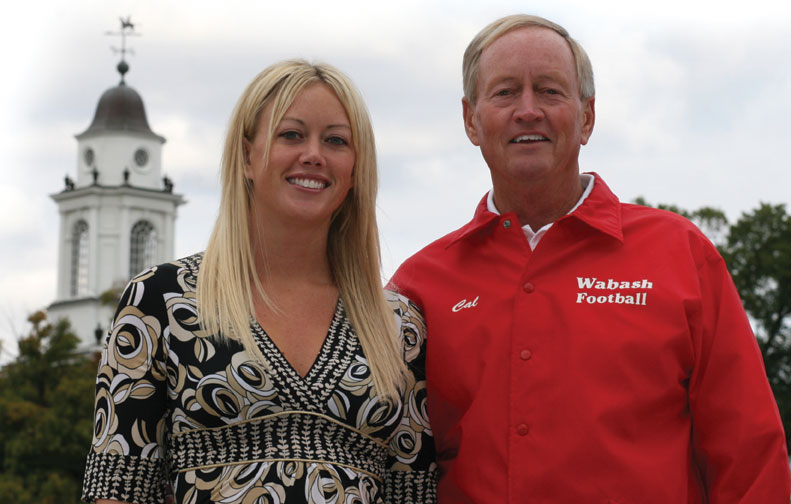 FEW WABASH MEN RIVAL Cal Black's affection for and history with the College.
His great-uncle Carroll Ragan wrote the music for Old Wabash and the music and lyrics to Alma Mater. His father, Carroll E. Black '28, served as assistant director of admissions.
Cal literally grew up on the Wabash campus, even living for a time with President Byron Trippet and his wife, Dorothy in the Caleb Mills house.
Eighteen descendants of the Ragan and Black family have attended Wabash since 1844.
So there is little question where a son of Cal Black would have attended college.
"He would have had to have gone to Wabash, and he would have had to have been a Beta," Cal insists. And such insistence from a former FBI Special Agent, security expert, and SWAT team leader is not to be taken lightly.
"If a son of mine had done anything else, I would have been disappointed."
He remembers his own father's reaction in Cal's senior year in high school when Arizona State University extended Cal a partial scholarship to play baseball.
"There were tears in his eyes—the idea that I would even consider going any place except Wabash," Cal says "That can be pretty tough on a kid."
So Cal says he has no regrets about not having a son. But if you think having daughters is a consolation prize for Cal Black, you've never heard him talk about Stacey and Marcie.
And, if you think Wabash can't play a central role nurturing the lives of girls and young women, you've not met Gail Pebworth.
STACEY AND MARCIE Black began attending Wabash football games when they were "old enough to enjoy them," Cal says. In other words, when they were toddlers.
"We went to every home and away football game, and my kids were dressed in red and white," Cal recalls. A photo of Marcie in her game day get-up appeared in the Indianapolis Star. "There was a group that went to the games, so Stacey and Marcie also got to know Fran and Barney Hollett, Bill and Ginny Hays, Lou and Dick Ristine, Bill and Harriet Stout, and Rem Johnston.
"We lived down on Main Street in what we called 'the Faculty Ghetto.' You had Wendell Caulkins, Peter Frederick, Don Herring, Phil Spelt, Phil Mikesell, and right across the street was Paul McKinney. We were surrounded by faculty, and Stacey and Marcie knew all these people and grew up with their kids. We were all part of the Wabash family."
But the Wabash family member who most shaped Stacey and Marcie's lives was College swim coach Gail Pebworth. Prior to becoming a Hall of Fame coach at Wabash, Pebworth led the Sugar Creek Swim Club for kids from elementary grades through high school.
"Gail was a role model for both Stacey and Marcie, and a pioneer in what she did in Crawfordsville," Black says. "She had the unique ability to get these kids to focus and compete and be successful but never get burned out."
Cal learned from Gail, too. Even when Marcie was very young, she rarely lost a race. Once when she did lose a minor race, Cal, wondering the cause of the loss, asked her if she was feeling okay.
"Gail overheard me and pulled me aside," Cal recalls. "She said, 'These kids are all broken down right
now, this meet was not important, and I'm focusing them on the next meet. The fact that Marcie lost doesn't mean anything.'"
Then Gail added, "Really, you are better off being a parent and not a swim coach."
Cal, who had coached high school athletics himself in other sports, heard her loud and clear.
Part of "being a parent" in the Sugar Creek Club was traveling to all the meets. It was expected. So the family traveled together most weekends during the swim season.
"We spent hundreds of hours at pools and natatoriums from Minneapolis and Buffalo to Fort Lauderdale and Iowa City. It became our family pastime. In some ways, we grew up together."
But home meets were in the College's pool. Cal Black's daughters were competing in athletics at Wabash, after all.
TWO OF CAL's proudest moments as a father came while he watched his daughters compete in swimming.
Marcie was and remains an extraordinary swimmer and competitor (she still swims in master's meets in Phoenix, AZ, where she lives). Attending the University of Illinois at Champaign on a scholarship, she was co-captain of the team her junior and senior years and helped break a school record at the Big 10 Championship Meet.
"To think that you've got a kid who is good enough to get a scholarship there, to watch her compete, to see her named captain, and then to watch her on the relay team that broke the school record... Wow!" Cal says. "But even more important, both Marcie and Stacey realized that swimming is a team sport—they focused not only on their own performance, but on helping out the team."
That's what Stacey did when she helped Crawfordsville defeat Lafayette Jefferson when she was a senior. Usually the second or third swimmer on the relay team, Stacey was tagged to swim the anchor leg in the final race of the meet.
"When I watched where they put her, I thought, Holy cow! That's a lot of pressure," Cal recalls. "And she pulled it off. We won the race and we won the meet. Oh, I was proud."
PROUD AS HE WAS AT THAT MEET, there was another moment—far less celebratory at the time—that, for Cal, captures both his oldest daughter's integrity and the honesty he believes defines their relationship.
"I was bringing Stacey home after her first year at Hanover College, and on the way home she turned to me and said, 'Dad, I'm wasting your money. I'm not putting into college what I should be putting into it, and at this point in my life I'm not ready to do that. So I don't think I'm going back.'
"She asked if I was disappointed, and I had to be honest," Cal says. "I'd asked her never to lie to me, and I wasn't going to lie to her, either.
"I said, 'I would have liked to have seen you finish in four years, but I respect a lot more your recognition of the fact that you're not ready for it. And telling me is a tough and pretty mature thing to do, so, no, I'm not disappointed. She later returned to college and did very well."
Today, Stacey and Marcie both live in Phoenix. Marcie is married to Joe Herzog, son of Wabash English professor Tobey Herzog. She also recently changed her middle name to Ragan, honoring the family's legacy at Wabash. She is expecting a child this winter.
Stacey works with a land management company, and Marcie is a counselor with Southwest Behavioral Health.
"I'm proud of both of them," Cal says. "They see each other every day, they swim together, they even ran a marathon together.
"I'm thankful they're both healthy, they're bright, they've done well despite taking different paths—they have both done very different things very well."
And though his daughters now live far away, that is likely to change someday.
"There are so many joys that kids bring to you, but right now, for me, one of the greatest is the fact that they want us around," Cal says. "They say they want us to move out there to be near them. We were a close family when they were growing up, but, unlike some kids and their parents who grow apart as they grow older, I see us getting much closer."
Photo: Stacey and Cal Black