Woehnker Remembered for Friendliness
by Howard W. Hewitt
Printer-friendly version | Email this article
Swim team members, Lambda Chi Alpha brothers, and the entire Wabash Community came together Tuesday morning in somber homage to Patrick Woehnker '11.
The Kendallville, Indiana freshman was remembered for a "goofy" sense of humor, a crooked smile, and the impact he had on those around him during a memorial chapel service. Woehnker, 19, died early Sunday from injuries he sustained after falling from the roof of Goodrich Hall.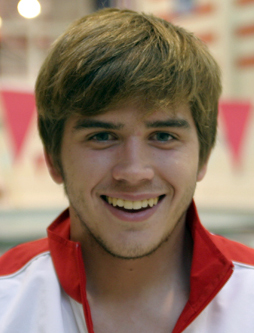 "He always put his friends first; it didn't matter what mood he was in," said his high school friend and Wabash classmate Jeremy Blazek '11. "He was always open to new people, always making friends."
Blazek knew Woehnker from their high school days at East Noble High School but didn't really become best friends until they arrived at Wabash.
Brent Graham '09 first met Patrick during Honor Scholarship Weekend last school year. He sized up the young man as quiet and reserved. Graham, an admitted pessimist, found himself drawn to Woehnker. "Who would imagine this happy, carefree kid would become one of my best friends," he asked.
Graham called Woehnker intelligent,; grounded and funny but not vulgar. "He had a child-like innocence," said Graham, who was not only a swim teammate but Woehnker's Lambda Chi big brother.
Assistant Swim Coach Kyle Dunaway opened the memorial with moving remarks featuring an exchange of email with Woehnker during the recruiting process. Much of Dunaway's speech is posted on the Lanelines Blog you can click here, or on the related link above.
Jason Siegel '08, Lambda Chi President, presided over the memorial, which followed Lambda Chi Alpha ritual. "Thanks for the amazing support," he told the large Chapel audience. "Two things will get us through this. One is our brotherhood and the second is the support of the Wabash Community."
The Chapel was packed with students, faculty, and staff. President Patrick White and his wife Chris were among those who attended. "It is clear that Patrick Woehnker loved Wabash, and in turn Wabash embraced him as a son and a brother," White said. "In his brief time on campus, he was well known for his easy smile, his energy, and vitality. His band of brothers in Lambda Chi Alpha and across the Wabash student body will hold his memory in their hearts forever."
Visitation will be 4-9 p.m. Wednesday at the Hite Funeral Home in Kendallville. Funeral Services will be held at 11 a.m. Thursday, also at the Funeral Home.
Memorials may be made to the Kendallville Parks and Recreation Department. Online condolences can be sent via the funeral home.