From the Archives: Wielding Winged Lightning
by Beth Swift
Printer-friendly version | Email this article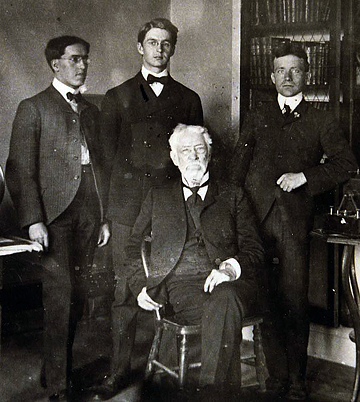 In 1880, the College's longest-serving faculty member brought electricity to campus and lit up the Arboretum "as if by glare of the sun."
In a Lafayette grocery store, I noticed a beautiful metal can of John McCann's "finest" Irish Oatmeal sporting the prizes it had garnered over the years. The official seals of those prizes included the Steel Cut Oatmeal Award from the 1876 Philadelphia Exposition.

Imagine my surprise at seeing the name of Wabash College's longest- serving faculty member on the side
of the can! Because of his service as secretary of that Exposition, John Lyle Campbell's name was still affixed to McCann's oats, more than 100 years since his death.

Campbell was a leader in the sciences, and secretary of the Exposition was one of many posts he held on the local, state, and national level. That 1876 "world's fair" attracted more than 10 million visitors and was a showcase for the very latest technology; the sewing machine, the typewriter, and the recently invented electric light were all on display. As professor of physics, mathematics, and astronomy at Wabash, Campbell was particularly interested in the mechanical items, and he used the connections he made at the Exposition to bring the modern world to his students and to Crawfordsville.

By March of 1880 he had installed the equipment to generate an exhibit of electric light in what we now call the Arboretum. A local paper, The Saturday Evening Journal, wrote of the event: "By the assistance of a reflector, the entire eastern portion of the campus was lighted as if by glare of the sun. Ordinary print was easily read as far away as Walnut Street, while the light shining on the trees resembled very closely sun light."

A story in The Wabash says, "As we watched the brilliant white light with its immense illuminating power, we could not help but think of the comparatively recent time when such a thing as the electric light was unknown … Professor Campbell, with the aid of the proper electrical apparatus, can wield with impunity the winged lightning as well as almighty Jupiter, though on a smaller scale."

Campbell was an amazing man and a great teacher. It was said that he had "enough political ability to have made a great statesman, enough legal acumen to have made a great jurist, enough executive ability to have made a modern captain of industry, enough courage to have made a great soldier…"

When he died, a former student spoke of him as one "whose friendship was like a thin thread of gold that followed those he knew well across continents and seas, holding them everfresh in gentle remembrance."

What a lovely tribute to a life filled with the wonders of science and the joy of sharing that
with Wabash and the world.