Time Well Spent
by Steve Charles
Printer-friendly version | Email this article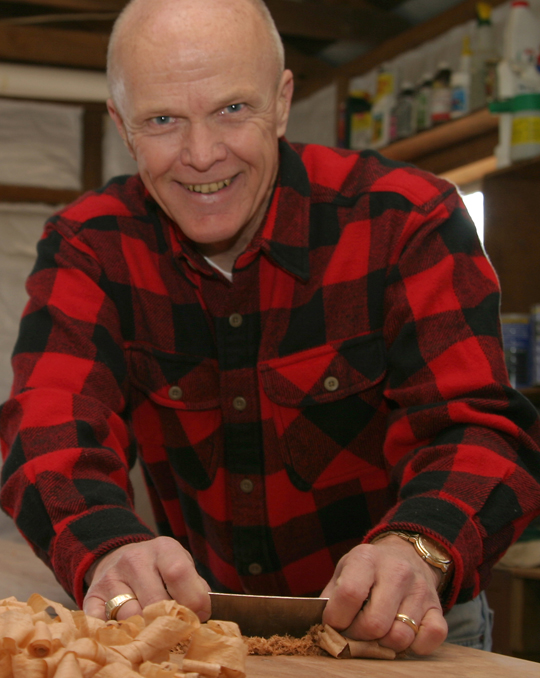 An hour's chat with award-winning Southern Highland Craft Guild furnituremaker Kent Merrill yields a lesson that's less about tables and tenon joints and more about deliberation; there are moments in life to take stock, reflect, and change your path.


He was raised in the industrial flats of northwest Indiana's "Region" and lived for 23 years in one of the Southeast's most beautiful coastal towns, but Kent Merrill's heart was always in these mountains.
You can understand why on this slowly warming April morning as the car rises and falls over the hills outside of Jonesborough, Tennessee, on the road that leads to Merrill's rural home.
You hear it over the bird songs as the former OB/GYN recalls his emotions when first seeing this place, then reminisces about camping with his sons not far from here when they were Boy Scouts.

"We were pulled to these mountains," he says.
He opens a window in the woodshop and the room draws in the mountain air like a deep breath mingling with the smell of curly cherry, maple, and walnut boards that stand in racks along the wall.
His surgeon's hands plane the edge of a maple board, the shavings curling up in one piece like a wood-grained Christmas ribbon. Merrill offers it to you so that you too can enjoy the moist, warm smoothness and the sweet smell. He smiles as he admits that it smells so good, once he just had to taste it.
He speaks of the wood the way he might have spoken of the hundreds of babies he delivered in his previous career: "I just get out of the way and let it show its beauty."
The pieces he makes are the stuff of old-time homesteads: huntboards; sewing desks; walnut cradles; and the harvest table he's currently working on.
Even the chairs on his lawn seem carved to match the contour of the mountains they face. Merrill, his land, and his vocation fit together like a good dovetail joint, and on this early spring morning, it feels like
a dream.
"We are at home here," he says.
Yet Kent Merrill's journey to his mountain home demanded the same degree of planning you see on the detailed plans he prepares for each piece of furniture he makes. It was a journey nearly ended when his wife was diagnosed with cancer. And it was a goal reached more than a decade after Merrill wrote in his personal mission statement: "I will lead a full, exciting, balanced, and creative life filled with love and learning and giving."
An hour's chat with award-winning Southern High-land Craft Guild furnituremaker Kent Merrill '64 yields a lesson that's less about tables and tenon joints and more about deliberation.
There are moments in life to take stock, reflect, and change your path.
Waves of grain
The peaks of the mountains out Merrill's front door stack up behind one another in a way the Cherokee people call "cataloochee"—literally, "wave after wave."
Merrill sees those mountain waves in the grain of the highly figured black cherry wood he uses, and
his Cataloochee side table has become one of his most popular pieces.
But wave after wave is an apt description of Merrill's life and three careers as well—and each wave has brought him closer to the mountains.
The first came after Wabash, where the biology major was a laboratory assistant for Professor Willis Johnson, whose recommendation helped get him admitted to Indiana University School of Medicine. There he chose an internship and residency in Charlotte, North Carolina, in part because of that
city's proximity to the Blue Ridge Mountains.
After a two-year hitch as an Air Force physician in Grand Forks, North Dakota, Kent and his wife, Midge, found themselves in Vero Beach, Florida—land even flatter than the northwest Indiana of his childhood.
But they found respite from summer heat by taking vacations in the mountains, and the couple spent more than two decades and raised three sons on the coast.
"I really liked my work as an OB/GYN," Merrill recalls. "The combination of the medical and surgical, and spending time with patients. And the acuteness of the decision-making process, especially when
things weren't going well, was a real challenge."
But after a fellow obstetrician lost a $12 million malpractice suit "where he had done nothing wrong," Merrill began to have second thoughts.
"I began to wonder, Why am I lifting my head out of the trenches?"
Merrill also had just read Stephen Covey's Seven Habits of Highly Effective People, in which readers are asked to write a personal mission statement. Merrill thought long and hard about his own. When he reflected upon one of the lines he wrote—"I will be a good steward of my spiritual, mental, physical and emotional health"—he realized it didn't mesh with the litigious climate in obstetrics.
So the doctor dropped that part of his practice and in his "spare" time pursued his MBA, which eventually led to his work in medical management.

About the same time, Merrill's lifelong interest in woodworking was piqued when Midge bought him
a table saw for Christmas.
"I took woodshop when I was a kid and really enjoyed it, and when I was in the Air Force in North Dakota, I made a couple of sewing tables from plans I'd seen in Popular Mechanics," Merrill recalls, then smiles. "Then I realized that, as a surgeon, I probably wasn't making a very wise decision pursuing a hobby in which I could lose a digit. So I put it aside until it was no longer a career-ending risk."
That moment came in the early 1990s, ironically enough, when Midge was diagnosed with breast cancer."Our goal had long been to retire to the mountains, but when you have a life-threatening event like that, you realize that living for retirement doesn't make a lot of sense," Merrill explains. He found a full-time
job as vice president of medical affairs for Blue Ridge Medical Management, and the couple moved to a
subdivision in Johnson City, Tennessee.
Then Merrill went after his avocation with a passion. He took classes at the acclaimed Penland School of Crafts in the Blue Ridge Mountains of western North Carolina. He studied the ways other veteran craftsmen worked—from the design to the final finish. But his inspiration remained the simplicity and attention
to function he'd long respected in Shaker furniture.
Merrill brought it all together in his own meticulous work, which began to earn admirers of its own. He retired from medical management and in 2002 was admitted to the prestigious Southern Highland Craft Guild, which represents about 900 craftspeople in nine southeastern states.
"We went to their annual meeting in 2002 and toured all these freestanding woodshops with lots of sunlight and a view of the mountains," says Merrill, whose shop, at that time, was in the basement of
his Johnson City home.
"On the way back I asked my wife, 'If we could find a place where I could build a shop and we could see the mountains, would you do that?' She said, 'Yes,' and it took us about three months to find this place.
It had been owned by an elderly widow who rarely got out—the drive was just two tracks leading through the pasture up the hill. I took one look and all I could say was, 'Oh, man!'"

Harvest
Kent Merrill leans over an expansive 4' x 8' harvest table, carefully scraping the top in preparation for the hand-rubbed oil he'll apply as the finish. It is gorgeous wood—waves of curly cherry with ebony inlays. But the beauty of the piece goes deeper, to the ingenious way Merrill attaches the top to allow for expansion, to the pegged bread board ends that help keep the table flat.
He likes to experiment with such details in his designs, but he's quick to acknowledge his mentors.
"The people at Penland and other craftsmen I've learned from know more about this than I could learn in a lifetime," he admits. It's a notion some might find discouraging. Not Kent Merrill. Seeking "a creative life, full of love and learning and giving," knowing that he'll always have something more to learn is simply inspiring.
As is the time the work requires.
Merrill spent 350 hours on his first huntboard, and then stopped counting the hours.
But he relishes every minute.
"It's an honor to make something for someone," Merrill once told a reporter for the local paper. He signs each piece over a label that reads, "Handcrafted with the Creator's gifts and my love."
As we walk out of the shop, Merrill points out the location for his next project—an Appalachian-style log cabin he's having constructed so that his kids and their families can have their own place to stay when they visit. He's looking forward to seeing them more often. He may craft some of the cabinetwork to give the place his personal touch, and no doubt a table or two will be shaped by his hands.
Kent Merrill makes furniture, but he's building a legacy —a life in which he doesn't fear, but delights in how time is passing. Time well spent. A home that gathers together so much of what he loves in a place he could call heaven.
A life led in response to the words he wrote in that mission statement more than a decade ago: "I will savor each of my ever-diminishing days as a precious gift."
See more of Kent Merrill's work at:
www.southernhighlandguild.org/kentwood/