Faculty Notes: Community Science
Printer-friendly version | Email this article
WASH THE SHEEP AT THE FAMILY FARM. Introduce Algebra Institute students to the Little Giant supercomputer. Check email for messages from the National Institutes of Health. Spend the afternoon on research with summer interns. And don't forget the 4-H Board meeting.
If the items on chemistry professor Scott Feller's typical summer day to-do list seem disparate, there's a method to his madness.
Feller says, "The best way to hook a student on science is to work with him one-on-one on a problem that neither professor nor student knows the solution to."
And that goal is where the day's tasks converge.
Even the 4-H Board meeting.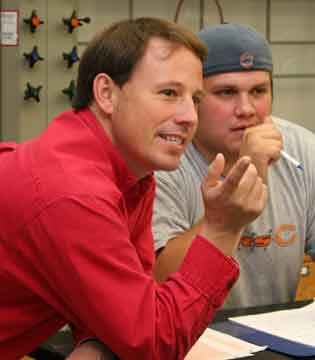 Early in his tenure at Wabash, Feller won grants from the National Science Foundation to create and update the Little Giant parallel supercomputer, capable of running molecular modeling and other simulations that assist teaching and research in the sciences and mathematics. More recently, he teamed with other researchers to win a $6.5 million grant from the National Institutes of Health that is putting Wabash students in the middle of a nationwide collaboration in nanomedicine. Last year, he helped Wabash host a meeting of the Council of Undergraduate Research, and he was a co-founder of the College's Celebration of Student Research and Creative Work.
But this morning the nine-year Wabash veteran is most excited about the presentation that students from the College's summer business immersion program made to the 4-H Board.
Feller became a member of 4-H fairgrounds planning committee after years of helping daughter Amanda and son Jake care for and show an ever-growing herd of sheep, goats, and pigs from the family's farm. Scott and his wife Wendy both come from farming families in Oregon, and they bought a 10-acre farm in northern Montgomery County to anchor their children's lives in their agricultural heritage. The Feller Farm also became a place for faculty friends and their families to get back in touch with the rural lifestyle.
This year, Feller is helping the board plan a new 4-H fairgrounds, and after he learned that the College's fledgling Business Immersion Program was looking for creative projects, he brought the board and Wabash together.
The work didn't exactly fit his research model of working one-on-one with a professor, but the students certainly faced plenty of unknown solutions.
"Students always come up with ideas we don't think of, and these guys were no exception," Feller says. "I was really proud of them. And I hope it makes for some nice connections between the College and 4-H."
Seeing himself the member of a Wabash community within the Crawfordsville community, Feller believes 4-H offers opportunities for more collaboration between the College and town.
"Relations between the College and the town will improve when individuals get to know each other and learn about each other's skills," Feller says matter-of-factly. "Find something you can work on together and you'll realize that you could always have gotten along just fine."
COLLABORATION IS AT THE HEART OF FELLER'S WORK.
"Scientific progress is a community activity," Feller says.That realization may be the greatest benefit for students working with him on the NIH research, in which scientists from across the country exchange results and ideas throughout the research process.
"If you're going to fill in the gaps of our knowledge, that's where you need to work. And students will see that things are happening at these intersections of seemingly unrelated areas, new fields of research, like biophysics, where the person who does the research is actually a 0chemist.
"And they see that there are unknowns out there, that there are ways they can actually contribute."
4-H PROJECTS OR SUMMER RESEARCH ON or off campus, it all comes back to Feller's basic premise: The best way to train students in the sciences is to work one-onone with them on a problem with no known solution.
Wabash chemistry majors taste that early, working with faculty as research partners in their freshman or sophomore summers. They present their results at poster sessions and at the Celebration of Student Research, and this year a group presented at the annual meeting of the American Chemistry Society.
"They learn an essential fact in both these situations," Feller says: "Science isn't science until it is shared."
By their junior summer they're ready for off-campus internships, and Feller proudly points to Wabash seniors Steven Rhodes and Syud "Taz" Momtaz Ahmed as examples. Rhodes spent this summer at the National Institutes of Health's Laboratory for Membrane Biochemistry and Biophysics.Ahmed was engaged in materials chemistry research at the University of Wisconsin at Madison.
"Taz and Steven have taken all the same courses and did their first research project together in Professor Lon Porter's lab," Feller explains. "Then we threw them into these two completely different environments and projects, and they both thrived.
"By working one-on-one in the lab with Lon at the very early stages of their scientific careers, they learned the habits of mind that favor success in science—making observations, making interpretations, bringing that together with what is known, and working with a professor as a colleague on what is unknown.That's hard to beat when you're preparing students in science."
Feller harkens back to friend and mentor, the late Paul McKinney.
"Paul used to say to me, 'We've got to find ways for students to show their creativity,' and he meant within the context of chemistry. For Paul, one part of this creativity was creating original solutions, and that's what we're doing here."
FELLER BELIEVES THAT WHAT'S GOOD for the student is good for the Wabash scientist and teacher. He recalls a recent conference in Vermont where a professor from another college was complaining that student involvement was slowing his research.
"And he probably could move things along more quickly in the short term," Feller admits. "But in the long term, working with students helps you think through the important questions.
"The greatest motivator for thinking through a hard problem is knowing that a student is going to come talk with you about it. It's easy to stop thinking about a hard problem and just grade lab reports or answer email. But if you know a student is coming by because he's been working on this problem, you'd better have something to talk with him about!"
Contact Professor Feller at fellers@wabash.edu