Works in Progress:The Music of Chemistry
Printer-friendly version | Email this article
by Jim Amidon '87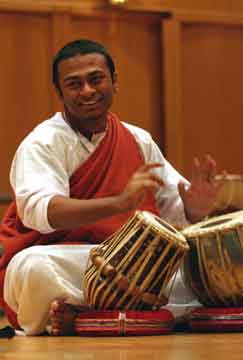 HE'S GOT A TWINKLE IN HIS EYE like a kid getting ready to light firecrackers on the playground. But when Syud Momtaz Ahmed sits down behind the tabla and plays his music, you see that look for what it really is: joyous.
Born in Hong Kong and raised in Dhaka, Bangladesh, "Taz" comes at life with infectious enthusiasm, passion, and even a little mischief. That charisma, combined with a disciplined intellect, diversity of interests, and his talent for and love of music, allows Taz to make friends easily—an essential for a Wabash international student.
When he left Dhaka to come to Wabash in the fall of 2003, he was following in his brothers' footsteps; Syud Faisal '96 and Syud Amer '02 introduced their younger brother to the College. But at first, Taz wanted nothing to do with Wabash, Crawfordsville, or the U.S.
"I wanted to stay home to study medicine and continue to live the rock star life," he recalls.
A gifted percussionist who can play a dozen types of drums native to countries all over the world, Taz had teamed up in high school with friends to form a band called "Made in Bangladesh." Unable to lure record producers, Taz and his band mates booked the recording studio with funding from his mom. Taz posted their tunes all over the Internet, and the songs were picked up by a Bangladeshi fire-spinning group and were played on the runway at fashion shows in Germany and the U.K.
"Our music was everywhere," he says proudly.
Music, not medicine, became Taz's true passion. In 2002 he joined another band, Ajob, which became the youngest group ever to sign with the Ektaar record label. Their first CD was released in September 2006 after years of fine-tuning.
"It's made with a lot of love," the percussionist says.
And well received; by October, Ajob's debut was Bangladesh's No. 1 CD!
Ahmed describes his band's sound as fusion music that combines traditional Bengali folk songs fused with the experimental sounds of Ajob's musicians. The unique combination of traditional rhythms and lyrics with a modern beat inspires a new appreciation of his country's traditional music.
"There's this huge generation gap in music in my country,"Taz explains. "Most young people have migrated to Western music, but Ajob is attracting the younger audience in a way that other Bangladeshi bands don't. We hope that they find the music interesting, but we want them to understand the deeper metaphorical meanings of the old, traditional folk tunes. They're part of our culture, our heritage."
For now Ajob is limited to playing live gigs in the summer, when band members return from studying at colleges and universities around the world.
"Music is a hobby that I love," says the 21-year-old chemistry major. "It's a great escape for me; when I'm playing music, I don't have a care in the world. As a percussionist, I have that ability to make a song festive, angry, or sad. Music is my way of expressing how I think and how I feel about things—my perspective."
TAZ LEFT HIS ROCK STAR PERSONA in Bangladesh, bowing to his parents' wishes that he attend an American college. But while his music has taken a back seat to the sciences and mathematics, now he's using Wabash—all of it—as an outlet for his ideas, much as he does with Ajob.
"Every time I meet someone here, I get new ideas…and I like to see my ideas realized," he says. "It's amazing how Wabash has allowed me to do that."
The ideas keep coming: he established the International Students Association annual community dinner and lecture; he has arranged trips to Chicago for international students so they can feel what it's like to be in a major American city; he's been an R.A. in his residence hall for three years; he worked side-by-side with chemistry professor Lon Porter in his research lab for two summers, and last summer did graduate student-level research with at team of chemists at the University of Wisconsin-Madison. He's one of 20 students on the revived Senior Council and is president of the Muslim Students' Association.
He also joined Wamidan, the College's world music ensemble. Fusing his own percussive rhythms with artistic director James Makubuya's East African beat was yet another wonderful creative outlet for Ahmed. And Wamidan's playful, joyful approach to music and performance seemed a natural fit.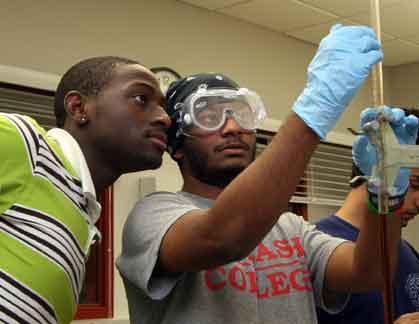 He tackles his academic coursework with the same easygoing style. At first blush, you'd never sense he's an honor student maxing out advanced science courses at Wabash. Some of that drive can be traced back to his dreams of becoming a doctor, working in the poor villages in his home country. "I could imagine myself treating people in the villages and playing traditional music with them," he says.
Now, though, his focus is chemistry, specifically pursuing a PhD in materials chemistry.
"When I think of Taz, I most often think of the student who comes into my office with a huge smile and great news or a humorous story to share," Professor Porter says. "Yet when I recall the experiments we've run in the lab, I recall a face that shows maturity and focus. He has his mind set on a goal and maintains a serious attitude until he's reached that goal. Finally, there is the Taz that performs. You can see the passion and joy of his art alongside the determination and drive. If you only get to see one of these sides of Taz, you're missing out on truly knowing him."
Taz says the high expectations and focus were set by his parents—his father, Syud Iqbal, a diplomat who was once the third secretary to Hong Kong, and his mother, Pervin, a teacher. But he also mentions Professors Porter and Scott Feller, who "understood me and what I wanted to accomplish at Wabash." Math professor William Turner and his wife, Cindy, "helped me feel comfortable when I first got here." Steve Charles and the other senior members of Wamidan "are some of my closest friends to this day."
And friends have kept Taz at Wabash. He almost didn't return to Wabash after his sophomore year. He had gone back to Dhaka, a city that "radiates life, radiates home for me," and was back playing with Ajob. But the friendships he made at Wabash—particularly with fellow international students—drew him back. "My friends are everything to me," he says with the gleaming smile. "If you have a problem and talk about it with them, sure, they'll make fun of you for an hour. But then you get some really good advice."
So what's left for the musician-turned chemist who wants to continue both pursuits?
"I'm taking a photography class this semester," Taz says with a mischievous grin. "Music allows me to express a certain perspective. Photography may allow me to show a different side of myself.And I'm looking forward to that perspective."