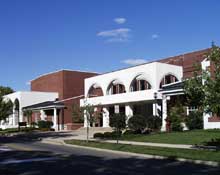 Box Office is located in Ball Theater Lobby entering from the south end of the Fine Arts Center.
Directions
GPS routing address: 504 South Grant Avenue, Crawfordsville IN 47933
From campus: East of the campus mall and through the arboretum is the Fine Arts Center.
From HWY 231/Washington Street: Take Wabash Ave. west off of Washington St., then south on Grant Ave. The FAC will be located on the left or east side of the road.
Parking
The Fine Arts Center parking lot is located just south of the center over the railroad tracks, with entrance from Grant Ave. If this lot is full, street parking is available north and east of the center.
Campus Map
FINE ARTS BOX OFFICE
Fine Arts Center
Wabash College
765.361.6411
finearts@wabash.edu
Facebook
Instagram
Twitter
Box Office Hours
Monday – Friday, 8:30am-noon and 1:30-4pm, and 60 minutes before curtain time for ticketed events.
Ticket Information
Admission is FREE to all events. All events are general admission. Free tickets are required for Theater Productions, President's Distinguished Speakers Series, and Visiting Artist Series events. All events are subject to change.
Visit www.wabash.edu/calendar for the latest calendar information.
Wabash College is a vaccinated community. We expect our alumni, parents, and guests to be fully vaccinated against COVID-19 prior to coming to campus for events and activities. (If you cannot be vaccinated for medical reasons, please let us know and we will try to make the appropriate arrangements to protect your health.)
Face masks are required for all unvaccinated persons while indoors on the Wabash campus. Face masks are also required when 50 or more people are gathered indoors, regardless of vaccination status.
Sponsors
The Visiting Artist Series is funded in part by the Tippecanoe Arts Federation, the Indiana Arts Commission, a state agency, and the National Endowment for the Arts, a federal agency.
If you have any technical difficulties when reserving tickets, please contact the Fine Arts Center Box Office at 765-361-6411 or finearts@wabash.edu.