Wabash Men Work For Others
by Steve Charles
10/12/08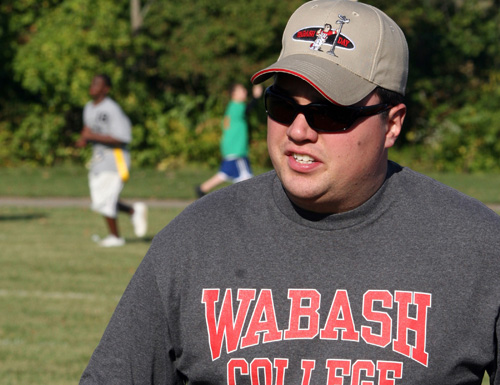 Damar Services, Inc.'s Chris Akers isn't sure how many years it had been since so many Special Olympics athletes had been able to gather at Damar for a day of flag football, but he's certain it couldn't have happened without Wabash volunteers.
"It's tough to find folks to volunteer to referee and help run these things—that's what makes these events happen," Akers said Saturday, looking over three games going on simultaneously under the beautiful Indiana autumn sky. "Thanks to Wabash, our community partners, and Special Olympics."
(Click here for a photo album.)
Tim Craft '00 had met with Akers earlier in the year, hoping to organize a Wabash Day activity at Damar, a residential program for children and teens with developmental or behavioral disabilities on Indianapolis's south west side. It's work close to Craft's heart—as an Eagle Scout, he'd founded The Craft Challenger League at Allisonville, a team for special-needs children that plays at Wyandotte School. 
"Chris asked, 'Do Wabash guys like football?'" Craft smiles as he recalls their conversation earlier this year. And Wabash Weekend at Damar was born. 
Fourteen Special Olympics teams—four from Damar and 10 from Indianapolis and seven surrounding counties—played on Saturday, with 15 Wabash alumni and students serving as referees and helping out on the sidelines. The event was one of dozens of service projects initiated by Wabash alumni for Wabash Day, the annual day of service observed by Wabash alumni and their families across the nation.
"We're hoping to make it an annual event, and this is sure a good start," said Craft while refereeing one of the games. Next year he hopes some of the Wabash volunteers will have a chance to play on some of the teams. Several of Saturday's teams were "unified" teams, enlisting up to two non-special needs athletes for their games.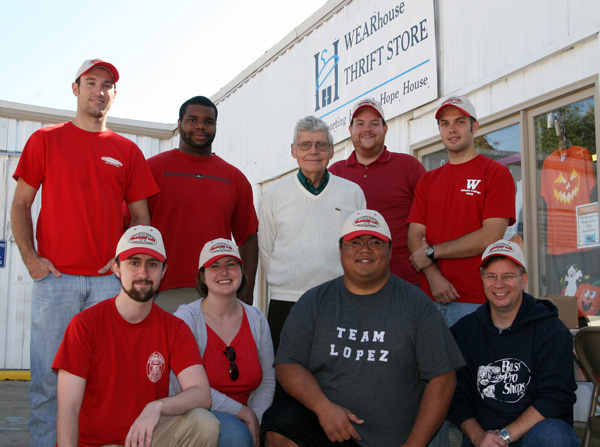 In Greenfield, IN, Wabash alumnus Charlie Lopez was kicking off another inaugural Wabash Day event: a partnership between Wabash alumni and Hancock Hope House Homeless Shelter. Radio Station WFMS, the Indiana Blood Center, and Wabash and other volunteers were on hand to raise awareness of Hope House and its clothing and thrift store. Hope House "Wearhouse" manager Linda Baker was encouraged by the turnout. 
"We hoping that Wabash will make this an annual event," Baker said. "Everything we sell here raises fund to support the shelter."
In photos: (top) Tim Craft referees at "Wabash Weekend"; Wabash volunteers at Greenfield's Hancock Hope House.