Lopez Brings Experience to Soccer, Career Services
by Brent Harris
08/11/10
David Lopez joins the Wabash soccer team this fall as an assistant coach in addition to duties as the internship coordinator for the Schroeder Center for Career Development at the College.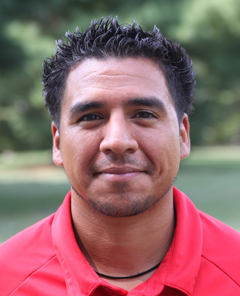 "I am extremely excited about Davey Lopez joining our soccer program as an assistant coach and recruiting coordinator," head soccer coach Roberto Giannini said. "I had the pleasure of enjoying Davey's passion and intensity when I coached him as a seventeen-year old player in northwest Indiana and I am thrilled to reunite with him at Wabash."
"Davey's primary work in our office will be as a student internship coordinator," Scott Crawford, Director of the Schroeder Center for Career Development, said. "His role is very student focused — to help increase the students' awareness of available internships and how to make those connections."
The dual internship hire shared with the athletics department and the career services, referred to as the "soc-tern" has been successful over the past few years.
"This internship is unique among college career services offices," Crawford added. "It provides another level of connection between our office and the students who participate in athletics. The combined position of assistant coach and career services intern has been in place for a few years now and has been a success for both departments."
Lopez graduated from Griffith High School in 1999, where he served as the captain of the soccer team as a junior and senior. He earned all-conference, all-area, and all-state honors in 1998 and 1999. A talented athlete, he earned varsity letters in soccer, track, basketball, tennis, and football. Lopez played for the 1997 Class 4A state champion football team. He also played club soccer for NWI Unite, playing in the Nike Triple Crown National final in the U-15 age group. His U-17 and U-18 teams reached the state championship finals and were coached by Giannini.
Lopez earned a scholarship to play soccer at Division II Grand Canyon University in Phoenix, Arizona where he earned four varsity letters. He was part of the Antelopes' California College Athletic Association championship team in 1999. Lopez has also played professional soccer with the Pittsburgh Riverhounds, Minnesota Thunder, Cincinnati Kings, San Diego Fusion, and Phoenix Inferno.
Lopez comments on beginning his duties at Wabash.
Lopez brings extensive coaching experience to the Little Giant program. He served as head coach and as an assistant at South Mountain Community College. He was a volunteer coach at Grand Canyon University, worked as a professional staff coach at the Sereno Soccer Club, a division director at Ahwatukee Foothills Soccer Club, a staff coach at the Arizona Olympic Development Program, and a professional staff coach for Soccer Tech International based out of Toronto, Canada.
"Davey's long and deep exposure to different levels of the game as both a coach and player brings a plethora of experience to Wabash soccer that will be instrumental in helping us reach higher goals," Giannini said. "I am looking forward to working with Davey and seeing him interact with our lads, as well as mentoring him to become the great coach he is destined to be."