The 16th President of Wabash College
About Wabash
The 16th President of Wabash College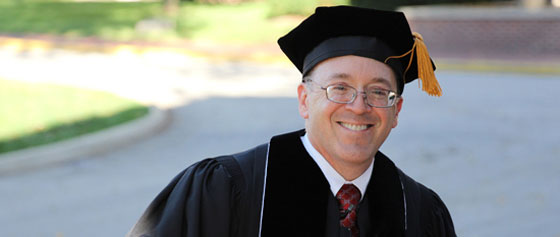 GREGORY D. HESS BECAME THE 16th PRESIDENT OF WABASH COLLEGE JULY 1, 2013. Dr. Hess was Dean of the Faculty and Vice President of Academic Affairs at Claremont McKenna College at Claremont, California.
In addition to his role as Dean of the Faculty at Claremont McKenna, Dr. Hess was the James G. Boswell Professor of Economics and a George R. Robert Fellow. In that role, he oversaw all aspects pertaining to academic affairs, including the curriculum, the Center for Global Education, the Center for Innovation and Entrepreneurism, athletics, institutional research, student learning outcome assessments, and information technology.
A native of San Francisco, he earned his bachelor's degree with high honors from the University of California-Davis, and his master's degree and Ph.D. in economics from The Johns Hopkins University.
Dr. Hess has held teaching positions at Carnegie Mellon University, the University of Kansas, St. John's College (Cambridge), the University of Cambridge, London Business School, and Oberlin College.
Outside the academy, Dr. Hess has previously worked as an economist for the Board of Governors of the Federal Reserve System, as a consultant for Honda Motors of North America, and as a member of the Ohio Governor's Council of Economic Advisors.
Hess and his wife, Lora, have two daughters, Abigail and Meredith.

prezhess@wabash.edu
President's Office
Center Hall 108
765-361-6221
Curriculum Vitae
---
Follow President Hess on Twitter at: @PrezHess