OLAB Ends on High Note
• July 18, 2011

Share:
Fifty-three high school seniors wrapped up their week on the campus of Wabash College Saturday, earning certificates and trophies for their participation in the 39th Annual Opportunities to Learn About Business program.
Hamilton Hensel of Indianapolis was elected by the other participants to give Saturday's commencement address at the awards ceremony attended by the students and their families.
The students — 18 from out of state — spent the week in a fast-paced business learning environment in which they competed as small companies selling consumer electronics. After more than 20 hours of lectures and workshops related to accounting, production, finance, marketing, advertising, ethics, and the stock market, 11 teams set out to earn their share of the market.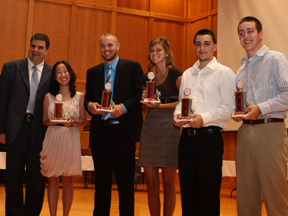 "It was a great week for the students, teachers, and volunteers of OLAB," said program director Jim Amidon. "It's amazing to me that after this many years, the program is not just relevant, it's as powerful today as it was at its inception in 1973."
The 11 teams each had to pick a target market and develop cell phone features that would be most appealing to that market. They developed and presented a marketing strategy and capped the week by creating an advertising campaign consisting of a media buy, print ads, website, and a television commercial.
"By the time the students began taping their commercials Friday morning, they had a good sense of what it takes to run a business," Amidon said. "Or course, these are fictional businesses, but we try to hit them with as many real world scenarios as possible, and the pressure to succeed is very real."
The week began with workshops on group decision making; lectures on finance, accounting, and production; and a series of games to test the students' knowledge of those concepts.
Once broken into teams, the students ran their businesses for eight fiscal quarters — producing balance sheets twice a day that consisted of employee wages, production levels, advertising, dividends, and more. All of those factors were kicked into a computer program, which judged the students for their accounting accuracy and competitiveness against the other teams.
Team six, which dubbed itself Nuance Technologies (above right), captured the Shaheen Management Award as the Best Managed Firm over the course of the week. Participants included Patrick Couch (Mishawaka), Lucy Guo (Columbus, IN), Jacob Merriman (Crawfordsville, IN), Joshua Sosa (Chicago, IL), and Abbey Swhear (Indianapolis, IN). When presenting the award, Game Master Greg Shaheen said the team "Took advantage of every opportunity, including higher productivity, with solid management and decision logic at every turn."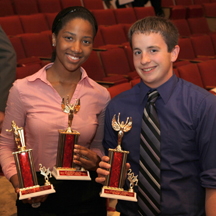 Team four, Pi Incorporated, took home the Tobey Advertising Award for its ad campaign for "The Nightingale." Tobey Award winners were Jacob Baldwin (Carmel, IN), Betty Cao (Plano, TX), Cheryl Faux (Powder Springs, GA), Aren Peterson (Indianapolis), and Branon Renick (Frankfort).
Renick also captured one of two Bingo Marketing Awards for his marketing strategy presentation. Whitney Turner (Indianapolis, IN) was the other winner (left).
Seth Gunderman (Carmel) received the Bull Thrower Award for giving the best stockholders' speech, while Turner was honored with the Best Introductory Speech award.
The seven counselors selected two award winners. Each year they present Mr. and Ms. Labbie awards to the students who put the most into the program over the course of the week. This year's winners were David Straka (Munster, IN) and Elizabeth Stratton (Crown Point, IN).
The counseling staff was led by Brittany Craft and Mike Metroka, and included Marissa Braun, Stephanie Bristow, Louie Feagans, Kojo Manu, and Jacob Surface.
Sponsors for the 39th Annual OLAB program were the John B. Goodrich Charitable Trust, D.J. Angus-Scientech Educational Foundation, Glick Family Foundation, Carmel Rotary Club, Kiwanis Club of Crawfordsville, Nucor Steel, the Indiana Sports Corporation, and Wabash College.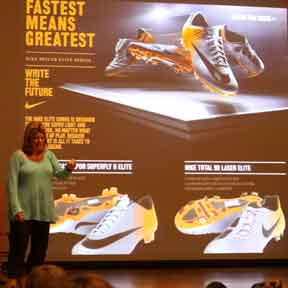 "This program attracts the best and brightest young people from across the country regardless of their financial circumstances, and that would not be possible if not for the generous sponsors and their long-standing belief in the power of the program," added Amidon.
Faculty for the 2011 OLAB program boasted 85 years of combined service to OLAB, and included Humberto Barreto, Chris Cotterill, Davey Neal, Joan Scott (right), Greg Shaheen, and Amidon.
Volunteer labor negotiators were Scott Benedict, Rick Cavanaugh, Tim Craft, Rick Dennerline, Greg Estell, Brad Johnson, and Jon Pactor.
More News
---
---
Related
---
Photo Galleries

2011 OLAB Commencement