In one of the traditions Wabash College holds dear, the newest freshman class was welcomed to campus Saturday during its annual "Ringing In" ceremony in Pioneer Chapel.
As tradition dictates, 226 men sat in the Chapel balcony as President Gregory D. Hess greeted the Class of 2020 and their families to campus, and charged the students to reach for their fullest potential.
"This College sees greatness in each and every one of you," said Hess. "We are a place of inspiration and expectations. We will expect great things from each of you and we will inspire and support you to reach your fullest potential; the potential that others see in you, too."
Using the hand bell that once belonged to Wabash's first educator, Caleb Mills, Dr. Hess rang in the class, which marks the official beginning of the students' lives as Wabash men.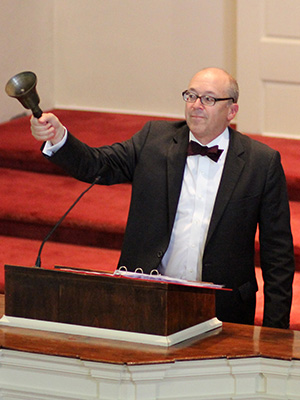 The Class of 2020 also received wisdom from the fourth-year president. "Class of 2020, you will change this place forever – starting right now," he said. "Learn to swim in the current, and promise yourself that you will get the most out of each and every one of your roughly 900 days at the College."
Dean for Enrollment Management Mike Thorp '86 explained that among the freshmen are 40 legacies, including 20 whose fathers attended Wabash and 20 whose brothers are presently enrolled or have attended the College.
Thorp listed some of the unique attributes of this year's freshmen. There are class members who have served on mission trips internationally, youth sport coaches, debate champions, and family farmers among a group that represents 18 states and seven foreign countries collectively.
"You gave of yourself and you tested your boundaries," Thorp said, "and that is perfect training for the next four years. You will need to draw on that training and experience for the challenge that lies before you is big. The challenge over the next four years will be for you to become better; better than your current selves, much, much better. It's up to you to accept the challenge and do the work."
Rob Shook '83, the President-elect of the National Association of Wabash Men, welcomed the students and their families to the Wabash community and spoke of joy and fulfillment from a seat very close to the one he occupied nearly 40 years prior.
"When I sat here 37 years ago, I had no earthly idea what my life's work was going to be," he said. "Don't worry if you don't, either. Try lots of things, see which you're good at, and see what brings you fulfillment and joy. Don't specialize too early – keep your options open. The skills you learn here will apply wherever you find yourself."
Shook, Program Director for IBM's Business Development and Go-To-Market activities, alerted the freshmen to both the rigors and benefits of the journey ahead.
"I envy you, gentlemen," Shook said. "You're embarking on a magnificent journey, and it's one that will take you as far as you will allow it. Set your sights high. Stand on the shoulders of those who have been here before you. Be those shoulders for the men who are around you, and who will follow you. The alumni of Wabash College welcome you and your families to our family. We think we have a lot to offer. And we're richer and more diverse for your being part of us."
Dean of Students Mike Raters '85, offered a heartfelt welcome and acknowledged the excitement this day brings.
"What a great and exciting day," Raters said. "Ringing In Saturday is one of the many great traditions at Wabash College. Today, 226 of you officially become Wabash men. We're delighted to have all of you here and our faculty and staff are ready and excited to participate in your education, and as you know, we take your education very seriously."