Entrepreneur Summit Reaches Students
by Richard Paige • February 6, 2016

Share:
Stacy Enxing Seng knew who she wanted to reach long before her keynote address at Saturday's Entrepreneur Summit. She wanted to reach the students.
With more than 30 years in medical technology and a proven ability to take an idea from concept to global market leadership, Enxing Seng hoped to connect with the next generation of entrepreneurs while at Wabash College.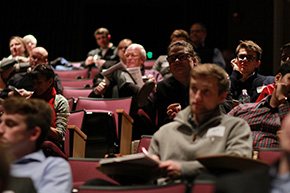 "Today is about the college students," she said. "This day has been great, especially if it inspires one person to think bigger or do something differently. I spend time with young people and help them think about where they can take their life, connect them to internships, and aid in recruitment. When I'm hiring, it's the heart, not the head. I look at the DNA of someone who is really super motivated, and I think that motivation starts when they are in college."
It wasn't hard to find students who had been positively affected by the day-long program of breakout sessions, networking opportunities, and panel discussions with Enxing Seng and nine other presenters with long track records of entrepreneurial success.
"Not only is this motivational and a great learning experience, but it shows a good route to achieving our goals," said John Lang '18. "It's great to have the liberal arts experience because it encompasses all subjects and all ideas. This has showed me that there are a bunch of ideas and a variety of options available to me."
Classmate Jayvis Gonsalves felt similarly and credited today's Entrepreneurial Summit with helping him progress toward launching his own business.
"As a student who is interested in setting up his own business while in college, having something like this at a liberal arts college is a really good learning experience," he said. "I've gained a lot exposure toward financing a business and moving from an idea to a business plan. I'm working on my idea right now, which I hope to launch soon."
More than a dozen Indiana colleges and universities were represented in the attendees this afternoon. They, too, were soaking up quite a bit of information. Leslie Ossete, a senior at Earlham College, spoke positively of the experience.
"I love this opportunity," she said. "I'm studying start-ups and building your own enterprise. I'm interested in the entire process and this is helping me immensely."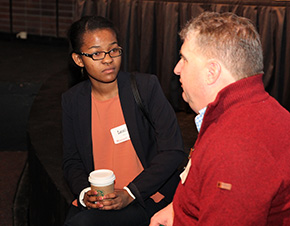 The quality of the attendees shows that there is a depth of young entrepreneurial talent residing in the Hoosier state. Special guest speaker Lt. Gov. Sue Ellspermann hoped to do some connecting of her own while in attendance.
"I'm here to convince many of you – the students in the room as well as the adults – that Indiana is the place that you want to have your future business," said the Dubois County native. "What's happening here in Crawfordsville is happening across the state. We are very excited about the opportunities that will come. You won't find a better time to be in Crawfordsville, or in Indiana, as an entrepreneur."
More News
---
---
Related
---
Photo Galleries

Entrepreneurial Summit 3