So what does Mason Zurek do after a record-setting 278-yard rushing day to win the Monon Bell? He rushes for 326 yards and four touchdowns in a come-from-behind 35-14 win over Albion in the first round of the NCAA playoffs.
Wabash (11-0) pounded its Michigan neighbors in the second half to the tune of 29 points to just 7 for the Britons (9-2). The Little Giants advance to the second round Thanksgiving weekend and will face 11-0 Thomas More College. The game's location will be announced by the NCAA Sunday morning.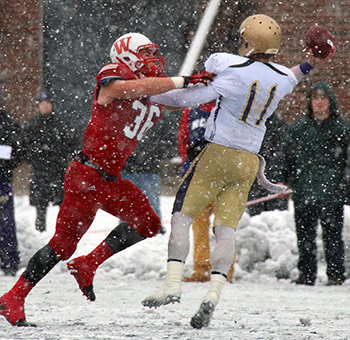 Albion entered the game as one of the nation's top scoring offenses. The contest had been billed as strength on strength with the Brit firepower and Wabash's stubborn defense. But heavy snowfall slowed both teams in the first half before Wabash opened up the offense and turned to its power running game.
"We had bad starting field position in the first half," Coach Erik Raeburn said. "So that made it tough and then with the bad weather … you have to be conservative, certainly but maybe I was a little too conservative. We played a little more aggressive in second half, spread them out and hit some pass plays. I think that was part of the difference.
"They came out and scored to start the second half and got the big pass play on us. So I think a lot of teams that would have put them in the tank. It was important for us to answer on that next drive."
After a 45-minute half to clear the heavy snow from the field, Albion struck on a Chris McCall 57-yard catch and run from Brit QB Dominic Bona, the Michigan Athletic Association Conference Player of the year.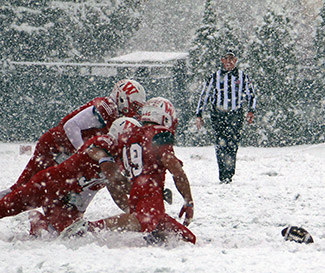 Wabash answered emphatically in its next possession. Zurek's first half five- and six-yard runs became double digit gainers. After a 13-yard gain, the North Coast Athletic Conference offensive player of the year ran 29 more to pull Wabash within two. A two-point conversion from Connor Rice to Drake Christen tied the game and turned the tide.
Then it was an old fashioned Zurek left, Zurek right, and Zurek up the middle.
During Wabash's second possession of the half Zurek ran the ball for 8, 35, and 5 yards before a 6-yard TD, 21-14. Austin Brown then picked off a Bona pass on a quarterback hurry by Evan Hansen. Zurek ran the ball on 7 of Wabash's 16 plays, capping the drive with a 1-yard plunge, 28-14.
All that was left was for a little icing on the cake. Delon Pettiford intercepted a Bona pass to set the Little Giants up at their own 30. Zurek took the handoff and blew through the Briton defense for a 70-yard touchdown, 35-14.
Not only did Zurek set a new Wabash single-game rushing record for the second straight week but he also recorded his ninth 100-yard game in a season – another Wabash all-time mark.
"I knew he had a ton (of yards)," Raeburn said. "Obviously, over the past two weeks I can't believe anyone is playing better than him."
Zurek surprised himself with a second straight record-setting week. "No not at all," he said of the big numbers. "I didn't think I was anywhere near 300. I figured I might have been close to matching my record I set last week but I didn't think it was that much."
The bruising RB faced a stacked Brit line much of the first half. "The field being cleared really helped," he said of the second half. "It was pretty evident once we cleared the field we could spread the offense out. I was running against 8-9 people in the box in the first half. I couldn't cut or anything I just had to run them over."
Zurek credited the offensive line, with three all-conference first team picks, for their hard-nosed first half work. "They had 8 or 9 people in the box and were still moving the ball 5,6,7 yards at a time."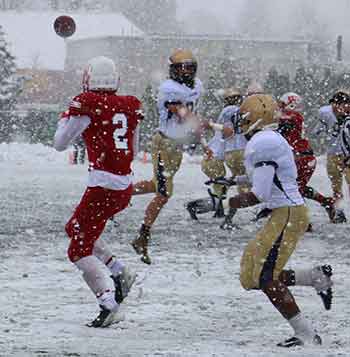 Neither team could generate much first quarter offense. Wabash got on the board late in the first period when Oliver Page caught an over-the-shoulder 33-yard Connor Rice pass.
"Playing in the snow was tough but we have a team that can really rise to the challenge," Rice said. "I've never played in that much snow, some flurries before but nothing like that. It was actually a really cool experience. I think for both offenses it put us at an advantage from the wide out standpoint because we know what we're doing but the DBs don't."
Page, who caught two TDs a week ago in the Bell game, is a bit more used to the weather. "We get snow like that sometimes up in South Bend (St. Joseph HS) with the lake effect so I'm kind of used to it. It was a challenge keeping the gloves dry but it's the same for both sides.
"We have a lot of great receivers, I've put together a few good games but overall it's been mostly Connor and what about Mason? That's who we should be talking about."
Zurek's incredible 326-yard day pushed Wabash to a 432-292 rushing advantage. Freshman Matt Penloa added 69 yards on 11 touches. Rice was 8-20 for 90 yards and a TD. Page and Christen paced the LGs with 3 catches each.
Defensively, Evan Hansen recorded 13 tackles, Ludwig 8 with two sacks, Ethan Buresh 7 with a sack, and Evan Rutter notched 7.
The Brits' Bona hit on 12 of 22 passes but threw three interceptions. He was sacked three times as well.
Albion arrived averaging a little more than 50 points a game this season. Wabash has not allowed any team to score more than 18 this fall.