It's still possible to have a say in how citizens and corporations should speak and spend. And you don't have to be a Supreme Court Justice to make that happen, said David Kendall '66 Thursday night.
Kendall '66 shared that thought and others at the Public Discourse Summit. The Washington D. C. attorney delivered the summit's keynote address, "The First Amendment and the Internet: Was Mark Twain Right?"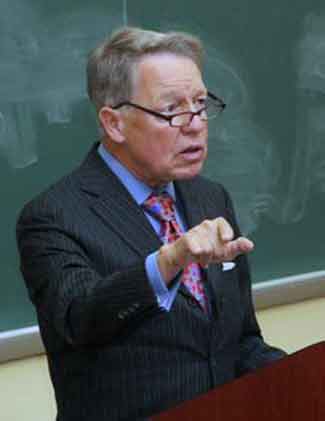 The speech coincided with the launch of the new Wabash Democracy and Public Discourse Initiative led by Sara Drury, Assistant Professor of Rhetoric.
"Founded on the right of free expression, the Wabash Democracy and Public Discourse initiative advances the kind of deliberation, discussion, debate, and advocacy that cultivate democracy," Drury said. "The initiative builds on the philosophy of W. Norwood Brigance, a member of the Department of Speech at Wabash College from 1922 to 1960, who advocated for the importance of training citizens to engage in productive public discourse."
Kendall is a partner at Williams and Connolly in Washington, D.C. and has defended a number of household figures, including former President Bill Clinton. A Rhodes Scholar and a graduate of Yale Law School, Kendall participated in the civil rights movement's Freedom Summer (which received much coverage this summer celebrating its 50th anniversary) while still a student at Wabash. He has extensive experience in civil rights cases.
Kendall explored the first amendment through the lens of what he called a "21st century internet era." Kendall alluded to Twain in his title because Twain phrased "privilege of the grave" such that "its occupant has one privilege that isn't exercised by any living person, free speech."
"We have more ways to speak today than we ever have before," Kendall said. "The internet is obviously a powerful instrument for communicating and receiving information."
The call to action is that as citizens, voters, and consumers of media, filtering the speech that is tainted with corruption and misrepresentation of facts is vital to protecting the integrity of the first amendment.
Kendall said libel in the United States was turned on its head with the 1964 Supreme Court ruling in New York Times v. Sullivan that said the first amendment protected those statements that "were not made with knowing or reckless disregard for the truth."
"You can call somebody loony, crazy, bastard, idiot," Kendall said, "or you can combine them together, and it won't be libel."
Kendall spoke of the gridlock and partisanship in Washington, D.C. as one of the country's greatest threats. He said the partisanship is as bad it was in the 1850s.
"There are many ways to speak, and with so many protections of speech, there should be a lot more thoughtful, rational, nuanced political speech than ever before, right? Wrong."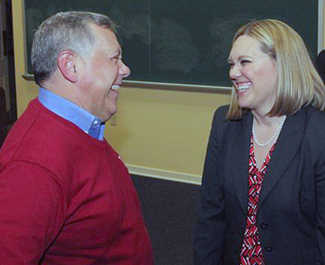 Though he admitted a part of his career included defending The National Enquirer, he said another affront to responsible free speech in the news media involves the "tabloidization" of news.
"I think often there is a relentless emphasis on gossip, titillation, scandal, gossip, in the political process that both distorts the coverage and makes the process focus on non-substantive issues."
In addition to tabloidization, Kendall identified gaffe journalism and recent court rulings that say "spending is speech" as other devolutions of 18th century free speech.
"The proliferation of news sources today has a down side," he said. "It means we can self-select to a great extent, we can look for and find echoes of what we already believe as something we already think we know. We can use 24-hour cable, Twitter, internet, to seek out and confirm our own reality. There's no open mindedness when we seek our own information in that way."
Josh Bleisch '16 said the speech was very thought provoking. He said it simplified some of the things citizens can do to maintain the integrity of the first amendment, especially in his generation.
"He made it seem like, oh, it's so simple to solve these issues, it seems like we're so divided, but it's not that complicated," Bleisch said. "Hopefully students can take away from it, how to behave and how to be good citizens in the future."