Awards Handed Out at Senior Breakfast
by Richard Paige • May 17, 2014

Share:
Three Wabash College seniors were honored Saturday morning at the traditional Deans' Senior Breakfast.
Andy Walsh earned the Frank Hugh Sparks Award for All-Around Student Achievement and Adam Barnes and Ryan Cloyd shared the John Maurice Butler Prize for Scholarship and Character.
Named in honor of the College's eighth president, the Frank Hugh Sparks Award for All-Around Student Achievement is given to a senior who has done the most to promote the true spirit and purpose of Wabash College.
A native of Clinton, Ind., Walsh was a Dean's List student in all eight semesters and was inducted into Phi Beta Kappa. The psychology major served as president of Psi Chi, the psychology honor society, WAR Council, and AMPED, in addition to memberships in Sons of Wabash and Senior Council. He earned five varsity letters as a student-athlete, including three in basketball and one each in football and track and field.
Given annually since 1923, the John Maurice Butler Prize for Scholarship and Character is voted on by the entire Wabash faculty and is given to a student of high character and great ability.
A native of Bradford, Pa., Barnes was awarded a Fulbright Teaching Assistant Scholarship and will be based in Madrid, Spain, educating high school students. A double major in biology and Spanish with distinction in both, he plans to attend medical school following completion of his Fulbright. Barnes is a Lilly Scholar, was inducted into Phi Beta Kappa, earned the Earnest G. Carscallen Prize in Biology, and was a George Lewes Mackintosh Fellow. A four-year member of the Wabash swim team, Barnes served as captain in each of the last three seasons.
A native of Beech Grove, Ind., Cloyd majored in biochemistry and minored in psychology, classics, and biology. A Dean's List student, he received the Dr. Paul T. Hurt Award for All-Around Freshman Achievement and was a finalist in the Baldwin Oratorical Contest as a sophomore. Cloyd received the Underwood Chemistry Award and was inducted into Phi Beta Kappa in his junior year, while also serving as a Junior Marshal during Commencement. He is a member of Kappa Sigma and will be working in Luxembourg following graduation.
The Sparks Award and Butler Prizes are the top student honors for a Wabash graduate.
The Dean's breakfast concluded with remarks from Dean of the College Gary A. Phillips, who is stepping down after eight years in that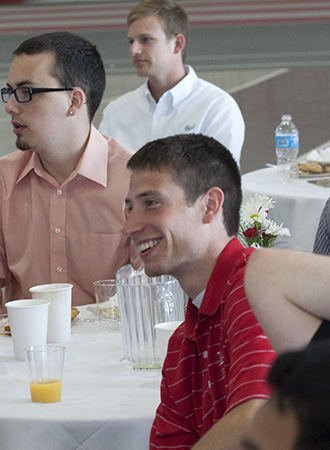 position. The occasion put both speaker and audience in the same unique role, as he noted, of having "to figure out what I will do with the rest of my life."
Phillips offered a challenge in his final address to the Class of 2014: to think about questions and why the liberal arts, and Wabash, offer a home for living with questions.
"It is the question that most captures my attention," he explained. "It is the interrogation, the inquiry that drives me not simply as a conceptual act but as an ethical response to life and the stuff the world throws at us. It is this capacity to confront ethical challenges that I believe to be dead center at the heart of the Wabash liberal arts mission that seeks to educate Wabash students to move on with their lives as critical, responsible, effective, humane gentlemen and citizens."
Using touchstones like the artwork of Samuel Bak, The Matrix, and the writings of Tolstoy and Rainer Maria Rilke, Phillips concluded with these words, "Your Wabash education leaves you with the question and the love of the question. It leaves you with a choice. What is now possible for you as you move on? In good Wabash style, you students have to decide."
Wabash celebrates its 176th Commencement Exercises on Sunday at 2:30 p.m. on the College Mall. The ceremony will be streamed live at www.wabash.edu/live.