Little Giants Set Stage For Witt Showdown
by Jocelyn Hopkinson '15 • November 2, 2013

Share:
Ian MacDougall etched himself into the record books Saturday and the Wabash defense dominated in a 66-0 victory over Hiram.
MacDougall has made 118 extra points, surpassing the 117 record mark shared by Spencer Whitehead '11 and Joe Bevelhimer '86. The Little Giants (8-0, 7-0 NCAC) held the Terriers (2-6, 1-6 NCAC) to 58 yards in the shutout. The win sets up the near-annual Wittenberg showdown for a conference championship and shot at the playoffs next Saturday at Little Giant Stadium.
"I thought we got great effort out of our guys, particularly that first half," Coach Erik Raeburn said. "I couldn't imagine it going any better."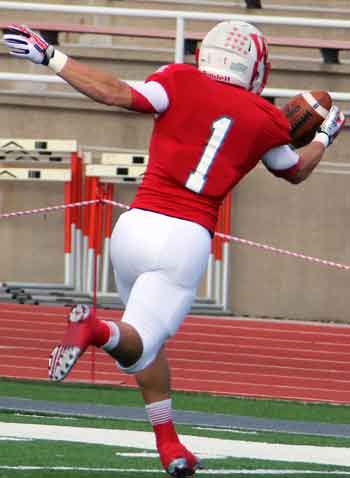 Anthony Stella started the scoring with a three-yard-touchdown run on Wabash's first drive. The following possession, Michael Putko found Houston Hodges open in the middle of the end zone, 14-0.
The defense joined the scoring party on the next two series. Hodges followed his offensive touchdown with a 30-yard interception return. Justin Woods registered a 38-yard pick six on the next series, 28-0.
"We wanted to come out here and make a statement," Hodges said. "We wanted to make sure we establish our run and that's what we did on the first drive. That was a big thing for us."
After two more scores and a MacDougall field goal, Woods took his second interception gave him another score and the Little Giants led at the half, 45-0. MacDougall made the record-setting kick on the last first-half score.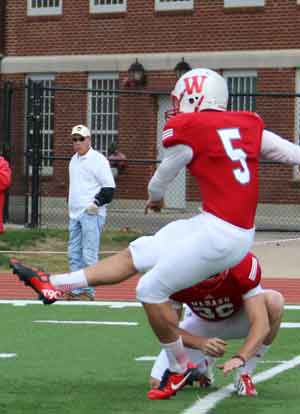 "It's not really a measurement of me," MacDougall explained. "It's a measurement of how good our offense and our defense has been. (Alex) Hirsch has been doing a great job snapping and Cam (Sobleski) holding. It's pretty much a product of everybody."
The senior kicker has converted 41 extra points this year and is 12-of-14 kicking field goals.
Putko finished the game 5-of-8 passing for 78 yards and a touchdown in a half of work. Andy Walsh completed 4-of-5 passes in relief.
Wabash ran for 211 yards led by Matt Gibson's 57. Gibson also had two scores.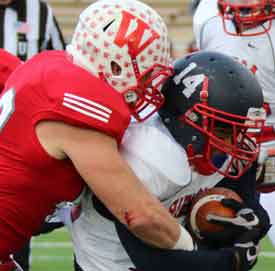 Nate Scola paced the Little Giant defense with 8 tackles, five of those behind the line of scrimmage. That left the senior linebacker just a half tackle shy of the single game record. Cody Buresh made 5.5 tackles-for-loss in a game earlier this season. Sophomore Chris Broecker had 6 stops.
The Little Giants will face Wittenberg (7-1, 7-0 NCAC) next Saturday. The conference show down will determine the 2013 NCAC champion.
"It's a big game for us," Hodges said. "It's going to be a battle. They have a lot of athletes like we do. They've been putting up a lot of points like we have. We have to be mentally prepared this week and do everything we can in practice to make sure we're ready."
Kickoff will be 1 p.m. from Byron P. Hollet Little Giant Stadium.
Game Notes
Wabash made its 14th field goal of the 2013 season, tying the mark set by the 1985 team.
The Little Giants have returned 7 interceptions for touchdowns this season. The 1996 team previously held the record with 5.
More News
---
---
Photo Galleries

Football vs.Hiram - TR