Buresh, LGs Too Much for Espinosa, OWU
by Jocelyn Hopkinson '15 • October 12, 2013

Share: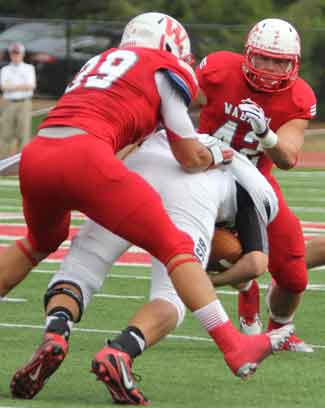 NCAC Offensive Player of the Year Mason Espinosa may have nightmares about Cody Buresh Saturday night. No one could blame the Ohio Wesleyan quarterback if he sleeps with one eye open. Buresh tied a Wabash record with 4.5 sacks in the Little Giants' (5-0, 4-0 NCAC) 38-13 victory over the Battling Bishops (3-2, 2-2 NCAC).
"He did a great job and constantly had pressure," Coach Erik Raeburn said. "I thought he got held about 15 times, but he never got frustrated. He's tough to block. We have to do it (block Buresh) in practice every day and it's a hard deal."
Espinosa still passed for 264 yards and a touchdown on 33-of-45 passing. However, the constant pressure led to two Eddie Cmehill '16 interceptions. The talented Bishop QB had only been intercepted once thus far this season. The harassment included seven sacks by the Little Giant defense.
"If you have to worry about your life at quarterback, you tend not to throw as accurate," Buresh said.
It wasn't all good news Saturday though, Mason Zurek '16 suffered a left ankle injury. But once again someone stepped up. Anthony Stella '16 ran for 189 yards and 2 touchdowns. The former linebacker moved to the offense just two months ago.
"I played outside linebacker all through middle school and high school," Stella said. ""I learned a lot from Tyler (Holmes) and Mason just from these few weeks. Also I have CP (Porter) to back me up."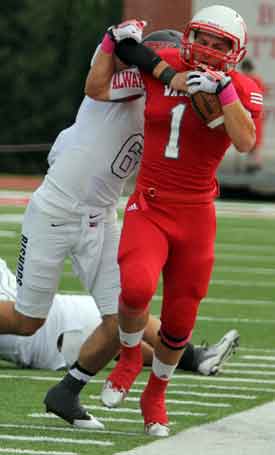 Wabash relied on its special teams Saturday to provide the spark. Houston Hodges '15 scored the game's first touchdown on a punt return, Matt Dickerson '16 returned a kickoff 77 yards, and Ian MacDougall '14 easily cleared a 45-yard field goal, the longest of his career.
"We've gotten good special teams play to this point," Raeburn said. "It's been nice to score on special teams four-out-of-five games."
After the Hodges touchdown, Ohio Wesleyan responded. The Bishops converted three third downs on the 10-play drive, including an Espinosa 23-yard touchdown pass.
"Their quarterback is fantastic — a super accurate passer," Raeburn said. "He has good weapons to throw too as well. To hold those guys to 13 points was a great effort and what we needed."
Great effort marked the Little Giants next score. Michael Putko '16 ran six yards into the end zone but fumbled the ball before it crossed the plane. Fortunately, right tackle Mark Riffle '14 fell on the ball for his first-career touchdown, 21-7.
Wabash scored twice in the second quarter. Stella busted through a large hole for a 57-yard run, carrying a defender with him the final 15 yards. On Wabash's next drive, Putko found Sean Hildebrand '14 for a touchdown with a well-placed throw to the receiver's back shoulder, 28-7 at the half. Putko finished with 11-of-18 passing for 121 yards and the score.
"Anthony did a good job when Mason went down, but it's killer to keep losing running backs," Raeburn said. "That's the way it happens, usually. It seems like all your injuries happen at one or two positions and just kill your depth."
The Bishops reached the end zone on a the third-quarter Kevin Herman run from a yard out, 28-13.
"We're all disappointed a little bit because we're all shooting for that goose egg," Buresh said. "But keeping them to 13 points is a great accomplishment."
MacDougal added his field goal in the fourth quarter set up by the Dickerson return. Stella capped the scoring with a 33-yard run around the right side of the offense, 38-13.
Buresh registered 9 stops for the game, and 5.5 tackles-for-loss. Nate Scola '14 also had 9 tackles, including 2.5 for loss. Nickel back Denzel Wilkins '15 was right behind the linebackers with 8 tackles.
Wabash's next game is against Kenyon Saturday at 1 p.m. at Little Giant Stadium.
PRESS BOX NOTES

- Buresh tied the mark of 4-1/2 sacks set by Dave Adich in 1987 and Josh Stanton in 2001.
- Ian MacDougall's 45-yard field goal was the longest of his career.
- Three different Wabash running backs (Tyler Holmes, Mason Zurek, Anthony Stella) have rushed for 100 or more yards in four of the Little Giants' five games this season.
- Wabash has scored nine touchdowns this season on either defensive or special teams plays.

More News
---
---
Photo Galleries

Wabash vs. OWU - TR1