Dr. Gregory D. Hess was inaugurated as the 16th president of Wabash College Friday in a celebration on the campus in Crawfordsville, Indiana.
In keeping with the theme for the weekend, President Hess spoke about the "simple gifts" of a liberal arts education during his inaugural address, acknowledging the fast pace of change in higher education and Wabash's steadfast commitment to its historic roots.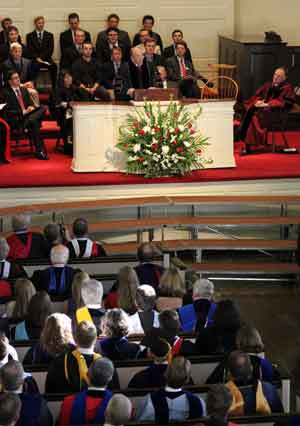 "Our true academic mission — to liberally educate each and every student — is a timeless reminder of the lives we change here at Wabash College, one young man at a time," President Hess said. "For while the problems facing higher education and the world are complex, the solutions need not be. Amidst the jostle and the fray and the haranguing static and noise that often surround our academic endeavor, stands our foundation: the simple gifts of the liberal arts.
"These profound gifts — the ability to act, to see, and to speak — are the bedrock that underpin teaching and learning at Wabash College."
More than 600 people attended the inaugural convocation held in the Pioneer Chapel, including trustees, delegates from more than two-dozen colleges and universities, alumni, parents, friends, and guests of the Hess family.
Stephen Bowen, Chairman of the Wabash College Board of Trustees, presented Dr. Hess the College's original charter as a symbol of the trust the Board has in its new president.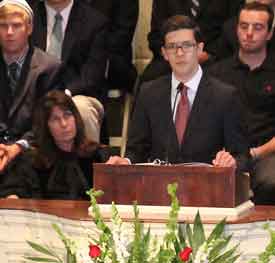 "Wabash may be a small college, but it is independent, resourceful, hardworking, and strategic," Chairman Bowen said. "It has a rich history of accomplishment. It will rise to any challenge.
"What [matters] is that we go forward from this place with a renewed commitment to our mission, that we put to good use the power of this community, and that we dare to believe that the best days of this great College are yet to come. Gregory D. Hess, my fellow Trustees and I have faith in your ability to lead our College. You have the strength of mind, the depth of wisdom, and the greatness of heart essential for this task, and we pledge to you our full support."
A native of San Francisco, President Hess earned his undergraduate degree from the University of California-Davis and his master's and Ph.D. in economics from Johns Hopkins University. He came to Wabash from Claremont McKenna College, where he had served as Vice President of Academic Affairs and Dean of the Faculty since 2006.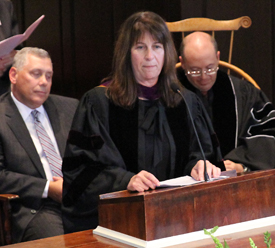 "There is a story here at Wabash that spans lives and generations, and I won't ever forget that fact, or the sacrifices and generosity of those who have made this College great," President Hess said with a nod to the students and alumni. "I will be a steward of the love and the joy that you hold for this great institution, and I will, by my efforts, be worthy of the trust that you place in me."
Hess, who began his tenure at Wabash on July 1, was welcomed to the College by Student Body President Jeremy Wentzel, Economics Professor Kealoha Widdows, and National Association of Wabash Men President R. Gregory Estell.
President Hess spoke to students in a Chapel Talk on the first day of classes. While he did not articulate his vision for the College at that early juncture of his tenure, he told the men of the College that under his leadership Wabash would become known as the liberal arts college for men.
Speaking for the students, Wentzel pledged his support to the new president, too.
"Gregory Hess is a scholar, an economist," Wentzel said. "He's a man with a pointed and precise focus on holistically shepherding Wabash College to become the liberal arts college for men. I couldn't be any happier to speak louder, to speak clearer, and to speak more directly to the mission, the duty, of what we've always been: an institution that educates young men in the most excellent tradition of the liberal arts."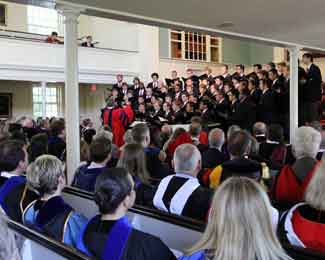 The president's message also resonated with the faculty and staff. In her remarks, Dr. Widdows, the John H. Schroeder Interdisciplinary Chair in Economics, said that Wabash has in President Hess a leader with "the vision, experience, courage, and creativity to guide us in finding solutions to the problems that challenge Wabash at this critical juncture in our history."
"The sweep of this ambition tells us that after only three months, you understand not only who we are, but what we can become," Dr. Widdows said. "You challenge us to extend even further the boundaries of the liberal arts classroom to include new and relevant curricular and co-curricular learning opportunities, as well as horizon-expanding off-campus and international experiences. You invite us to imagine a more capacious physical campus with new structures in which our students live, learn, work, and play. You have, in short, called us to seize our opportunities now and in so doing create at Wabash a model liberal arts education for the men of the 21st century."
Representing the Board of Directors of the National Association of Wabash Men, its president, Greg Estell, noted in his remarks how much Wabash has changed over the course of 50, 25, and even 10 years. But he also acknowledged the timelessness of the liberal arts.
"As much as its surroundings and worldly opportunities may have changed, Wabash's fundamental culture remains steadfast," Estell said. "For this we are grateful. Today's tradition of teaching — intense, immersive efforts which sometimes spread across the globe — is simply an extension of our history, where lessons were and continue to be learned in faculty living rooms, fraternity houses and residence halls.
"With that good work in mind, President and Mrs. Hess, Wabash alumni today rise as one, with our broad strengths and varied perspectives, offering our heartfelt gratitude and full support as our College, with your leadership, sets a global standard as THE liberal arts college for men."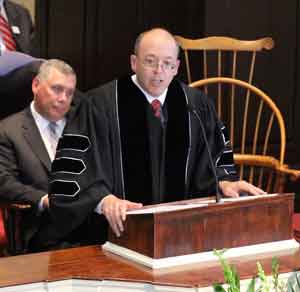 In his closing, President Hess promised to safeguard the College and quoted the late Wabash Professor William C. Placher, who spoke eloquently about Wabash's purpose throughout his lifetime.
"At this time in its history, Wabash College has the unique opportunity to leverage its standing and to help shape the course for the importance of liberal arts education for men. I am honored and excited to lead the College in this endeavor," President Hess said.
"I believe in Wabash. I believe in the mission of this great College. I believe, as Bill Placher did, that uncommon good can come from a few good men willing to think critically, act responsibly, lead effectively, and live humanely. These are the simple gifts of a Wabash liberal arts education. And these are the gifts I pledge to safeguard and proclaim 'from the Hills of Maine to the Western plain' and 'to the light of the southern seas.'"