Zurek '16 Powers LGs past Wooster
by Jocelyn Hopkinson '15 • October 5, 2013

Share:
Mason Zurek '16 bullied his way through rain and the Wooster defense Saturday, and continued to ease the loss of All-Conference running back Tyler Holmes '14. Zurek ran for 228 yards and 2 touchdowns in Wabash's 48-14 victory over the Fighting Scots.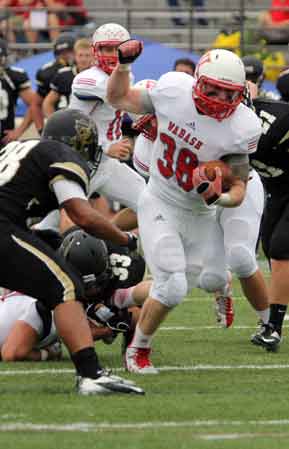 "I really loved how we played in the first half, particularly," Coach Erik Raeburn said about his offense. "In the second half we were a little sloppy up front. The turnovers are unacceptable."
Wabash scored 38 first-half points, but only managed 10 points in the final 30 minutes - including two turnovers.
Weather played a role in a Wabash game for the first time this season. Lightning caused a 15-minute delay to start the game, and heavy rain soaked the field in the second quarter.
"I thought they did a good job of staying focused despite the delays and different obstacles they had to overcome," Raeburn said. "They handled all of those things to play really well and take care of business on the road."
When the storms cleared, the Wabash offense provided the lightning with a quick scoring strike on its first series. Zurek busted through arm tackles and scampered down the right sideline for an 82-yard score less than two minutes after kickoff.
The Little Giants scored on the second play of its next series when Michael Putko '16 found Sean Hildebrand '14 shockingly alone at the goal line for a 38-yard pitch and catch, 14-0.
Putko passed for 206-yards and a touchdown, but also threw his first interception of the season. Anthony Stella '16 followed Zurek in rushing with 49 yards and a touchdown on 12 carries.
Wooster responded and accomplished a feat no other team had this season — scoring in the first half against Wabash. With Barnes emptying the backfield to go wide right, backup quarterback Tyson Vogel hung in the pocket and completed a pass to receiver Keir Pace for a 13-yard touchdown, 14-7.
Scots running back Sean Hackel moved the ball on that scoring drive. He took a short pass 47 yards and followed it up with an 18-yard burst through the middle. Hackel finished the day with 99 yards on 20 carries and 2 receptions for 65 yards.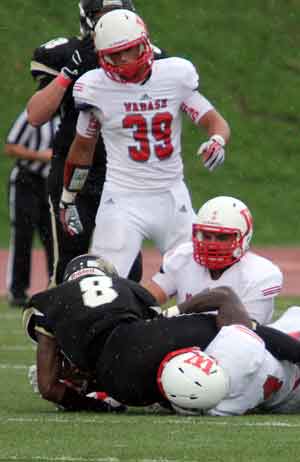 "Personally, I made mistakes on the plays in their scoring drive," linebacker Cody Buresh '15 admitted. "It was miscommunication — I was supposed to peel with the running back when he went out but I totally forgot about it. They had one big play and after that it was alright."
That trick play wasn't the only one of the day.
"We knew especially in the red zone they might to throw some trick stuff at us," linebacker Buresh '15 said. "The first play of the game was a double reverse pass play and our defensive back was right there so it was good to see we had our heads on straight. We knew they had stuff like that up their sleeve."
The dual-quarterback formation proved to be the only gimmick that worked. Wooster attempted a fake-punt pass on the next drive that fell incomplete. The Little Giants racked up the next 34 points, highlighted by a 66-yard fumble recovery for a touchdown by Nate Scola '14 after Tyler McCullen '16 drilled Barnes.
Barnes reached the 300-yard mark passing although much of the gain came with the contest well in hand. He lost 51 yards from 7 Little Giant sacks.
Buresh led the unit with 12 tackles, a sack, and a forced fumble. Scola had 9 tackles and 3 sacks in addition to the touchdown. AJ Akinribade '15 contributed 6 tackles and a sack.
Wabash will host Ohio Wesleyan Saturday at 2 p.m.
More News
---
---
Photo Galleries

Wabash vs. Wooster - TR2