Relay Team Sets Record; 5th at Nationals
by Brent Harris • May 26, 2013

Share:
A record-setting performance by the members of the Wabash 4x400-meter relay team gave the Little Giants a fifth-place finish and All-America honors on the final day of the 2013 NCAA Division III Outdoor Track and Field Championships.

John Haley, Chet Riddle, Joey Conti, and Joel Whittington toured the oval in 3:10.58 to earn All-America awards for the first time for all four student-athletes. The foursome broke their own school record of 3:12.08 set two days earlier in the championship meet prelims.
View photos from the race and the awards celebration here. Watch a video replay of the race here.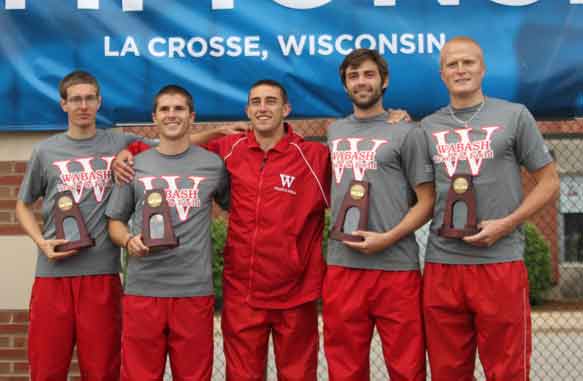 The Little Giants earned a berth in the national field after cranking out two quick times at last-chance meets at North Central College. Sean Hildebrand joined Whittington, Conti, and Riddle to post a time of 3:14.36 a week after Haley, Riddle, Conti, and Whittington set the Little Giants up to make nationals with a time of 3:14.43.
"Thursday night I said I thought this group could run a 3:13 in the finals. To go from 3:14 to 3:12 then to 3:10 is something you can't script as a coach. I think about these four young men and their stories and what they've gone through. This is a perfect example of NBU (Nothing Breaks Us) and 'Wabash Always Fights.'
"All of these guys have been through a lot trying to make this relay work. Joey was sick to his stomach last year when I sent him home at the end of his freshman season because he was just tired. It broke his heart when we finished 11th in the final rankings and only 10 went to the indoor meet. It really hurt. Joel kept a picture on the screensaver of his phone of the scoreboard from last year's ninth-place finish at outdoor nationals when the group fell one place short of being All-Americans. John Haley's ankle and hamstrings have kept him from being at his best the past two seasons, but he has battled through those injuries to get to this point. Chet had an injury that kept him from competing last year, as well. So for all of these guys to find a way to come together and build off that adversity is something special."
Morgan praised Hildebrand's leadership and impact on the team as an alternate.
"People may wonder why Sean is in the picture of our All-Americans. We would not be competing this weekend in the relay without Sean. He helped get us here. John Haley has to go to his brother's wedding, and even tried to tell me it would be fine if he missed the ceremony. If John had not gone to the wedding, I would have thrown him in my truck and taken him there myself. Sean stepped in that weekend and ran the anchor leg of the relay. He had guys from other teams coming after him. If we didn't win that race at North Central other teams would have jumped over us in the final rankings and we don't race at nationals.
"Sean was a coach this weekend. The guys were kind of tense in the warmup area. Sean went back and kept the guys loose. He was bouncing around and high-fiving the guys. What gave me chills was this: I didn't know who would run today. I got a knock on my door at 10 p.m. last night. Sean told me John Haley was ready to run even though he had competed in the open 400 earlier that day. Sean also said 'I've talked to team and they're ready.' That young man looked me in the eyes and I was convinced. I knew something special was about to happen, and Sean's a big part of our success today."

Seniors Haley and Riddle picked up All-America trophies for the first time as their Wabash careers came to an end.
"I don't think the idea that I'm an All-American has set in yet," Riddle said. "It is the first thing I thought of when I crossed the line and handed the baton to Joey. I went up to John Haley after we saw Joey hand off to Joel and knew we would finish no worse than sixth. I just kept yelling 'We did it! We did it!' To me this is the summation of my entire Wabash career. I've been working toward this since the end of last year when I missed the national team because of my hamstring. To come back after a year of training and see it all pay off has just been a wonderful experience for me.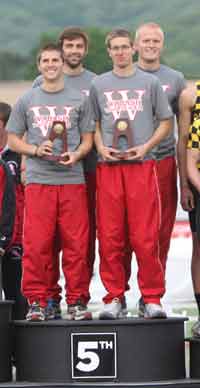 "This has also been a tremendous opportunity to spend one last weekend with my teammates, and especially John Haley. We've been here for four years. We were part of Coach Morgan's first recruiting class. It's a great feeling to know that we've been able to start a legacy that's not going to go away anytime soon."
Haley competed 24 hours after running in the 400-meter dash. The effort had little effect as he led off the relay for the Little Giants Saturday.
"This whole experience has been four years in the making," Haley said. "We finally got it. This is probably the biggest accomplishment I've achieved in my Wabash career. Knowing that we also set the school record makes it even better. This is really a testament to Coach Morgan's training. He's been telling us all year preparing for nationals is all about peaking at the right time. He rested us when he needed to. He trained us hard when he needed to. All of that allowed us to turn these top times the past few weeks."

Conti and Whittington are in their second season as members of the Wabash track and field team. The duo joined Ronnie Posthauer as sophomore All-America award recipients. Posthauer finished fifth at the Indoor Track and Field Championships in March.
"It's exciting because we have a lot of young talent returning. We have Ronnie, Joey, and Joel coming back as All-Americans. We also have a couple of guys — Cole Hruskovich and Chris Stazinski — who have been a part of our relay teams. I know they're hungry. We also have some young men coming in to join our program. All of that can allow us to reload and come after this again."