2013 WCC Scholarship Dinner
by Michael Warren • May 3, 2013

Share:
Dinner in downtown Chicago on a beautiful spring day is great in itself. Add to that several Wabash men as well as prospective students and their families and it is even greater.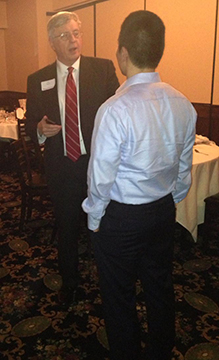 The 2013 Wabash Club of Chicago Scholarship Dinner was held on Monday, April 29 at Maggiano's in downtown Chicago. Wabash men and their guests along with a some prospective students enjoyed a great meal and conversation before hearing remarks from President Pat White. President White praised the Wabash men in attendance for continued loyalty and support of the College, but much of his remarks were directed at the students. After learning that each one would indeed be a member of the Class of 2017, he told stories of current Wabash students given evidence of what they can become and the greatness in them that is not yet known.
Special thanks to Eric Schoettle '93 for serving as emcee for the evening and for engaging the younger alumni in attendance so that this event and other can continue with full support of the Chicago area alumni.