Wabash Students 'Ring Out' Whites
by Howard W. Hewitt • April 25, 2013

Share: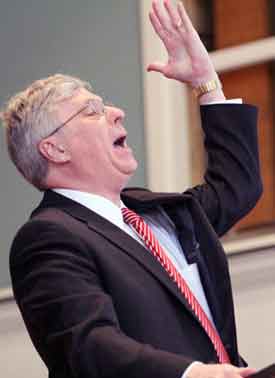 President Patrick White delivered the final Chapel Talk Thursday of his seven-year presidency with passion, occasional humor, and considerable emotion.
"During this time, gentlemen, we have all worked hard to be worthy of the nurturing love of Wabash College," the President told a packed Chapel crowd. " We have laughed and cried together. We have worried together, disagreed about matters of very grave importance, and you have told me when you thought I was decidedly wrong in no uncertain terms. Faculty and staff, we have worked so hard and I have been so amazed at your love and care for the students of Wabash, for your constant creativity in so many ways, nurturing of one another and of our best imagination of who we can be as Wabash."
He called Wabash a community of learners – students, faculty, staff and alumni. He said all four groups "taught me so much daily about what it means to be Wabash, about leadership and wisdom."
The morning talk included a few very emotional moments. Jeremy Wentzel '14, Student Body President, gave brief remarks and presented certificates to the President and Chris White naming them Honorary Senators.
Click here to watch the President's entire Chapel Talk and the following presentation.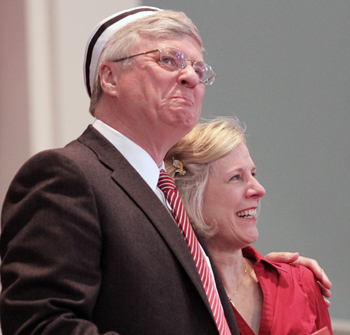 But the moment that caught the Whites by surprise and brought a few tears to the Chapel came at the end of Wentzel's presentation. Students stood in the balcony and used small replicas of Caleb Mills' bell to "ring out' the President.
"Here at Wabash, with our Wabash friends, with our colleagues and students, we feel accepted, valued, nurtured, and challenged," the President said. "I suggest we love this place, this college because here we feel worthy of love. Here our lives matter. You have all heard me praise you gentlemen, saying, you have no idea how good you are. This is another way of saying you have no idea how worthy of respect, how worthy of love you are.
"Family, community, home, friendship, brotherhood, all come to mind as we talk about this place, this world, but Wabash is all these and more, we are a collegio, literally a binding together, a college, bound together not only in the pursuit of knowledge, but in attention, care, affection, and dare I say it, love for one another."
Near the end of his remarks he asked everyone to stand and shake hands with friends, teachers, and those who would be teachers just as he has done each of the past seven Augusts during Freshman Saturday.
He then offered his farewell:
"So no goodbye but fare thee well, Wabash, I will always love thee, and may we together hold this college deep in our care and have it live and prosper as we return to Wabash the love and courage and the power we have learned. May we remember forever,
"Wabash is always awake,
"Wabash Always loves,
"Wabash Always Wonders,
"Wabash always dreams, and through it all,
"Wabash Always Fights, and Always, Always, Always, Always … means Always."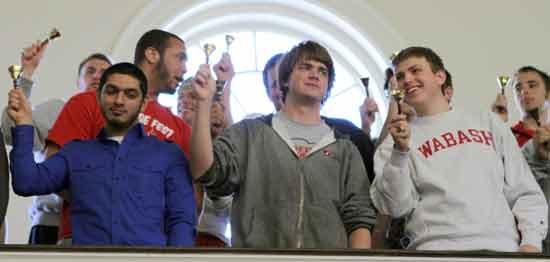 More News
---
---
Photo Galleries

President White's Last Chapel Talk Album 2

President White's Last Chapel Talk