Three Students Presented Business Ideas
• April 24, 2013

Share:
Three Wabash students will participate in the Young Entrepreneurs Program at University of Indianapolis Thursday.
The program was co-sponsored by the Indiana Small Business Development Center in partnership with the Office of Community and Rural Affairs, and the Indiana Economic Development Corporation.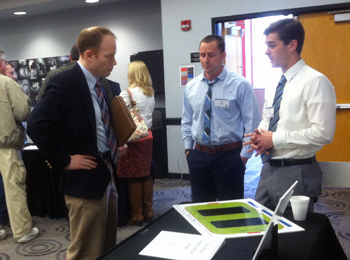 "The Young Entrepreneur Program is a great avenue to connect Indiana college talent with local communities, encouraging those entrepreneurs to locate their ventures in the state, helping to continue to revitalize those communities." Noelle Dunckel, ISBDC, said.
Ryan Fier '13 presented his ideas for a soccer facility in Columbus, Indiana. Wabash graduate Dylan Andrew '12 is partnering with Fier on the project. "We' were looking for feedback and critiques from local community leaders," Fier said. "It was a great learning experience."
Director of the Schroeder Center for Career Development Scott Crawford thought the event offered great value for students. "I think this type of event is a fantastic idea, helping nurture and connect these talented future leaders to Indiana locales," he said. "I thought the Wabash students pitched their ideas very effectively, and look forward to seeing more Wabash students selected to participate in the future".
Charlie Kolisek '14 and Justin Taylor '15 presented their social networking idea Synopziz for college student recruitment.
"Our Wabash men stood out for there ability to link their ideas for money-making ventures to some of the strongest concerns of a community," said Assistant Career Services Director James Jeffries. "Synopziz seeks to build a social network with a social cause. Columbus Indoor Soccer Complex emphasizes the formative values developed in athletics. Our students make clear the relevance of liberal arts in entrepreneurship, and this event program shows great promise in keeping these talented young men living and working in Indiana communities."
The students competed against other Indiana young entrepreneurs for the attention of business and government leaders from across the state.
Crawford expects any successful entrepreneur-community connections to be announced in June.