Medler '01 Exhibit Open Through April
by Steve Charles • April 11, 2013

Share: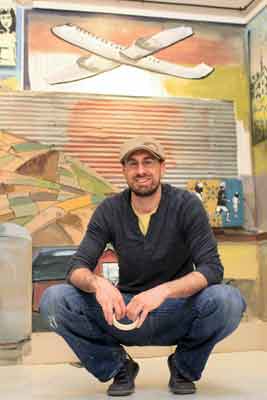 Zach Medler '01 knows everything changes, and he's fine with that.
He celebrates that.
And last Friday the public joined the celebration, as Medler became the first Wabash grad to have a full-scale exhibit at Crawfordsville's Athens of Indiana Art Gallery when he opens his interactive show, "art from where you live."
Actually, the public has been a part of this installation since the Lafayette artist began the work last week. The first piece in Medler's show is a standing wall that invites visitors to draw their own art into the work.
"My favorite thing is giving someone a marker," Medler said. "They hesitate at first—it may have been years since they've drawn anything. But once they start, they start having fun with it. It changes their idea of art, what art can be.
"Everything changes. Things that tend toward static tend to be dead to me. One thing I really like about art is that someone else can add something to what I made."
Medler has been working since last week on the second piece of the exhibit.
"I wanted to work when the gallery was open so people could see the process. I don't come in here with an idea—I come in with these materials, then I respond to the space, to what I saw when I drove by on the way in, to what comes to me while I'm here."
Most of Medler's materials are previously used or discarded cardboard, metal, fabric, and paints—there's an old painted over sign from his family's furniture store—and he reworks them to create a narrative of images and textures. He credits Wabash College Professor of Art Doug Calisch with emboldening him to use such materials.
His own idea of what art can be was changed when a Tibetan monk visited the College's Eric Dean Gallery. Medler was a Wabash religion major and watched as the monk spent a week creating a sand mandala, taking up most of the gallery's floor space with the intricate work. The day it was finished, the monk poured all the sand back into a bag and dumped it into Sugar Creek.
"I was studying Buddhism intensely at the time, then these guys come up and do the sand painting. I saw the temporal nature of these pieces, and why that is so important to think about.
"I wouldn't say that event inspired this work, but I wouldn't say it didn't."
A four-year track and cross country runner while at Wabash, Medler earned his master's in art from Purdue and became a printmaker, potter, painter, and ceramic sculptor. He has been elected to the Indiana Artisans Guild and showed his pottery at the 2012 Indiana Artisans Marketplace.
But this year his focus is the interactive installations and murals he's been commissioned to complete across this part of the state, most recently for the Tippecanoe Arts Foundation in Lafayette. Some stay up for a long time, others—like the one he created here—will come down in several weeks.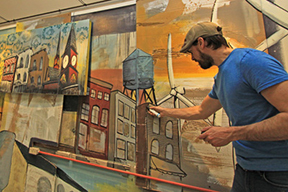 "Art and permanence are always a struggle for people," Medler said. "However there is no such thing as a permanent piece of art. Even the cave paintings are going to disappear some day.
"I look at my work as temporal. I'm okay with that. I don't need it to be permanent."
At least one piece in Medler's exhibit—that standing wall—will change the moment someone walks into the gallery Friday, picks up a marker, and adds his or her own work to the art.
Nothing would make Zach Medler happier.

The Athens of Indiana Arts Studios and Gallery is located at 113 N. Washington Street in Crawfordsville. The opening reception begins at 6 p.m. Friday and is free and open to the public.