Tanney '05 Describes NCAA Madness
by Jocelyn Hopkinson '15 • April 3, 2013

Share:
Matt Tanney's '05 presentation "Madness Beyond March: Adapting to Changes in Division 1 Athletics" given in Baxter Hall Tuesday night highlighted just that, madness.
The Western Illinois Assistant Athletic Director shared his experiences in National Collegiate Athletic Association (NCAA) Division 1 athletics. The madness begins when dealing with the organization's rulebook, which is constantly fluctuating to rid itself of rules like the following one Tanney described.
"Schools can provide their athletes with fruit, nuts, and bagels," he said. "But schools can't provide bagels with cream cheese because then it's an extra meal provided (which is illegal)."
Maddening.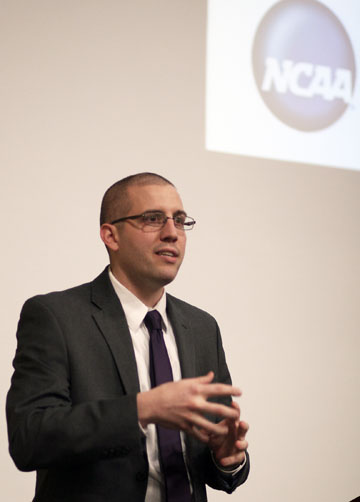 That rule falls into the "Inconsequential Rules" category, which is trying to be removed. Another category, "Unenforceable Rules," is outdated and in need of change as well. For instance, coaches are not allowed to text recruits. The NCAA implemented the rule years ago when text messages cost money to receive, but now the rule is just another inconvenience.
Tanney decided to pursue a maddening career when he was a law student at the McKinney School of Law. During his time at the Indiana University Law School, he worked with the National Federation of State High School Associations (NFHS). Tanney's work with NFHS led him to an Athletics Compliance Officer position for Ohio State University. He would later hold similar positions at the University of Dayton and Oklahoma University. The Lexington, IL native returned to the Prairie State with his current position.
"It was definitely a humbling experience," Tanney said about his beginnings in the field.
Tanney did well in college and Law School and did not think he would have a problem landing a job. He paid his dues by filing Terrelle Pryor paper work and informing Adrian Peterson and his body guards that Peterson could not speak with recruits.
Pryor, a former Buckeye quarterback, sold football memorabilia which caused sanctions to be levied against the Ohio State football program.
Peterson played running back for the Sooners and is the reigning National Football League Most Valuable Player. It would have been illegal for him to talk with potential recruits.
Tanney even served time on parking lot duty. His task was to simply keep track of athlete's vehicles and who is paying how much for their vehicles. If an athlete from a poorer background suddenly drove a Cadillac Escalade, questions were asked. Tanney did the fact checking and made sure nothing out of the ordinary appeared.
An Assistant Athletic Director holds an even larger umbrella of responsibilities.
"It's a lot of firefighting as my boss likes to say to me," Tanney said. "You put on your fire hat every day and put out fires each day."
One of the largest fires Tanney is attempting to put out is monetary benefits for collegiate athletes. Conversations have intensified about this possibility due to instances like Pryor's and the lawsuit O'Bannon versus the NCAA.
Ed O'Bannon played basketball on the University of California Los Angeles' championship basketball team in 1995. He sued the NCAA over "player likeness" in one of EA Sports' college basketball video games. O'Bannon claims the video game resembles him too closely and he should earn compensation for the use of "him" in the game. Tanney warned if O'Bannon wins, collegiate athletes could reap in the dollars and no longer be amateur athletes. He doesn't want the focus removed from school.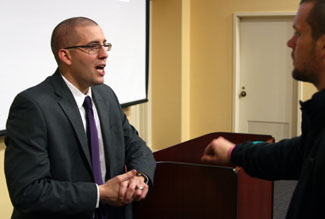 "Guys are at a university to get an education," Tanney said. "If you leave college with a degree and you don't have to pay a dime towards loans when you walk out the door, you're getting quite a deal."
Despite the numerous battles, Tanney found some can be worth the fight. He used his English major and skill in writing to win one such battle.
Jessica Yanz played volleyball for powerhouses Penn State University and Nebraska University before she requested to transfer to Western Illinois in her last year of eligibility. Student-Athletes are only allowed one transfer before they sit out a year and Yanz had already used hers. Meanwhile, Western Illinois lost its setter for the season. Tanney argued on behalf of Yanz and WIU to the NCAA and won the appeal.
Even in the madness, Tanney found solace.
The presentation was the spring installment of "The Liberal Arts at Work" series, arranged by Professor of English Tobey Herzog.