Western Michigan Group Hosts The Whites
by Tom Runge • March 2, 2013

Share: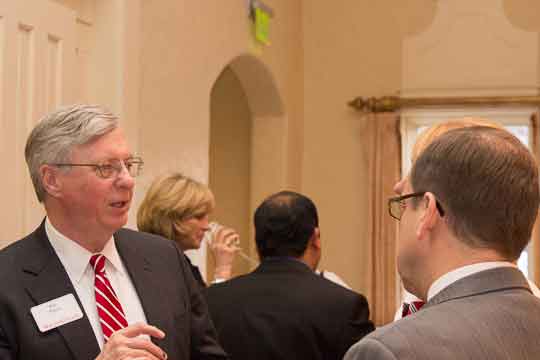 March 1, 2013. The Western Michigan Association of Wabash Men gathered at the Cascade Country Club in Grand Rapids to thank Chris and Pat White for their service to Wabash. Four prospective students and their families joined the group.
Before dinner, Dean of Admissions and Financial Aid Steve Klein introduced the prospective students. Paul Toohey '92 offered the invocation.
After the reception and dinner, Trustee Jim Davlin '85, who made the trip from Detroit to attend the event, outlined the impact of the Whites on Wabash and thanked them for their friendship and service. Chris White talked next and addressed her memories of watching the students become great young men and world changers. She also addressed the Gentleman's Rule in a much broader context, explaining that the "Gentleperson's Rule" has wide-ranging impact.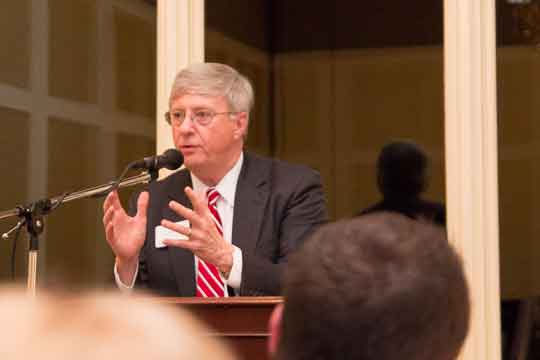 President White spoke of change at Wabash noting a significant change is always occurring. Every year 25% of the students leave campus and a new group takes their place. Pat outlined the spring immersion classes and their travels while mentioning the exploits of some of our Wabash athletic teams – in sports and in academics.
Jay Fisher '66 presented gifts to the Whites thanking them for their service.
Greg Estell, President-elect of the Alumni board, joined the group making the trip from Indianapolis.
Many thanks to Marty and Jay Fisher for a great event.
Photos:
Top: President Pat Wite at the reception
Middle: Pat Talks makes a point to the group.
For more photos, click here.