Chad A. Cleaver '00
• February 26, 2013

Share: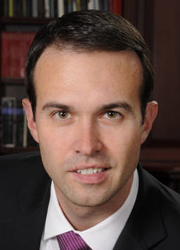 Chad is a Portfolio Manager at Driehaus Capital Management LLC in Chicago. Chad is the co-manager of the Driehaus Emerging Markets Growth Fund and the lead manager of the Driehaus Emerging Markets Small Cap Growth Fund. Prior to joining Driehaus, Chad assisted three economists with their research in the Division of International Finance at the Federal Reserve Board in Washington, D.C. During his tenure at the Fed, Chad co-authored a research paper on international capital flows, which was published in the journal International Finance. Chad received his MBA in Corporate Finance from the University of North Carolina at Chapel Hill in 2004.
Chad is active in the Chicago community, as a member of the Wabash Club of Chicago, the CFA Society of Chicago, and the Chicago Council on Global Affairs. He frequently works with Wabash Career Services, assisting students and young alumni in their job searches, and spoke at the Financial Fitness program conducted on campus in 2009. Chad and his wife, Maheen, live in the Lincoln Park neighborhood of Chicago and are proud parents of two sons, Darius and Shayaan. Chad is a member of the 1832 Society.
Vote online for NAWM Board of Directors.