Surviving Tuskegee Airman to Speak Thursday
• February 11, 2013

Share:
One of the few surviving members of the Tuskegee Airmen will speak on campus Thursday. Arthur L. Carter, Sr., Indianapolis, will speak at 7 p.m., Feb. 14, in the Fine Arts Center's Korb Classroom.
The Tuskegee Airmen were the first African-American pilots for U.S. armed forces. The group broke down racial barriers in World War II, serving with distinction and honor. More than 300 surviving members were honored by President Bush in 2007. Carter is the only member of that group living in Indianapolis.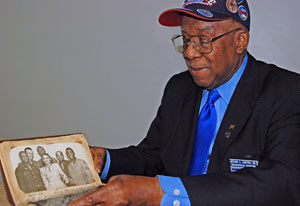 Carter joined the U.S. Army Air Corps Oct. 22, 1942 as a 19-year old. He was trained as a multi-engine mechanic and served until 1949.
Since his service, Carter started the first African-American travel agency in Indiana, earned a Bachelor of Science IUPUI, been a licensed public accountant, and worked with Indianapolis African American newspaper, The Recorder.
His life has been one of community service, as well. He has been awarded Indiana's "Sagamore of the Wabash" and Kappa Alphi Psi Fraternity's "Elder Watson Diggs" Award. Indianapolis's 100 Black Men organization has honored Carter for his service as well as the Boy Scouts of America.
Carter was a graduate of Crispus Attucks High School. He, along with all other original Tuskegee Airmen, was honored in 2007 with Congressional Gold Medal.
His talk is sponsored by Xi Rho Chapter of Kappa Alpha Psi and co-Sponsored by the Malcolm X Institute of Black Studies.