Faculty Profile - Karen Gunther
by Tom Runge • February 6, 2013

Share: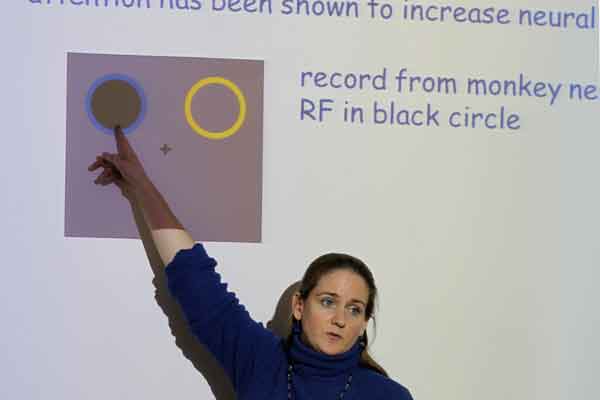 Name: Karen L. Gunther
Your background: I grew up in the San Francisco Bay Area, Berkeley for 6 years, then Palo Alto – my parents still live in the area. I went to Oberlin for undergrad, then worked 3 years at Abbott Labs north of Chicago. I moved back to California for grad school at UC San Diego (overlapping with Ethan Hollander of Poli Sci, but we didn't know it). From there I moved to Milwaukee for my post-doctoral fellowship at the Medical College of Wisconsin. One day my first winter there, Milwaukee was at about 30 below zero with windchill, and San Diego was at 80 above due to Santa Ana winds, which meant they were 110 degrees warmer than us!! I taught one year in neuroscience at Oberlin and one year in psychology at St. Mary's College of Maryland before coming to Wabash. A week and a half before interviewing at Wabash I met my husband, Nestor Matthews, while interviewing to be his sabbatical replacement at Denison. We each live walking distance from our respective campuses, and get together on the weekends.
Department and specialty at Wabash: Psychology Department. I study color vision – what our eyes and brains do with light to allow us to see color. I teach Sensation & Perception, Cognitive Neuropsychology, Introduction to Neuroscience, plus our core courses of Introduction to Psychology, Statistics & Research Methods, Literature Review, and Capstone. My husband teaches almost exactly these courses, but at Denison.
Favorite part of Wabash: Both the small classes where I can get to know my students, and the faculty/staff colleague friends I've made.
Favorite place on the campus: The arboretum – it is quiet and peaceful, cool in the summer, colorful in the fall.
Favorite food: Any type of Asian (especially sushi), Indian, Ethiopian, Mediterranean.
Something most people don't know about you: 1) My cat Hippocampus is older than about half of our students (20 human years and still feisty). 2) My alma mater has the potential to beat Wabash in football. (This was the first time since 1945 – let me brag a little this year, because this might be the only time in my life that I get to!)