Morgan Guest Today on First Friday Live
• February 5, 2013

Share: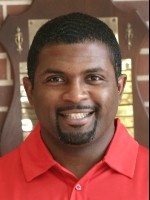 Wabash Track and Field Coach Clyde Morgan will be the guest at 12:15 p.m. today on 2013's initial First Friday Live netcast.
Morgan is in his fifth year as coach building a program that now is a force in the NCAC. Two track and field athletes won national championships last season under Coach Morgan.
But Morgan is much more to his student athletes than coach. He is known as a leader and mentor.
Coach Morgan will appear on the 12:15 p.m. First Friday Live webcast Feb. 8 to talk about his program, work at Wabash College, and to answer any questions submitted via Facebook or Twitter.

Watch the program at 12:15 p. m., Friday, here.
Submit a question via Facebook.
Submit a question via Twitter.