Dr. Hess Ready to Tackle Wabash Challenges
by Scott Morrison '14, The Bachelor • February 1, 2013

Share:
Dr. Gregory Hess, who was named the 16th President of Wabash College on Saturday, wants to approach Wabash's future with ambition and execution.
Hess, currently the Dean of the Faculty and Vice President of Academic Affairs at Claremont McKenna College (CMC), was very direct during his finalist visit to campus and touched on some of the financial issues and other challenges facing Wabash and liberal arts colleges. First and foremost, Hess wants to form strong bonds with College leaders and to become acclimated with the College's work and planning.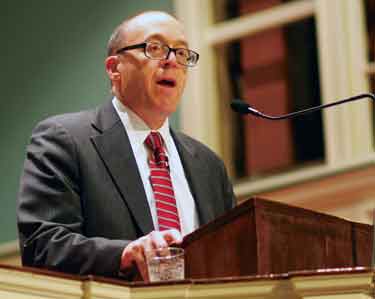 "There is a great deal of good work that has been done through the Board of Trustees, and other parts of the College, that have evaluated some of these issues about financial planning, financial aid, and all those topics," Hess said. "I think it will be important for me to just start getting informed. One of the things I will be doing my first chance at Wabash is to listen to a lot of different constituents, and then try to set a course that continues to develop the excellence of the institution. I am hoping to make that mark pretty early because I think we need to set a course."
A common theme from the presidential finalists when they were each on campus was the future of liberal arts colleges and how Wabash would weather the financial and admissions challenges on the horizon. "The colleges that I think are going to do best moving forward are those with really distinctive missions," Hess said. "But a mission is never enough; it is all about your execution and ambition level. We are going to emphasize excellence, ambition, and execution throughout the institution. Not only are we going to be a male liberal arts college, but we are going to try to work on being the best place for any man to get educated."
Despite all of the planning and research ahead, Hess also understands the importance of becoming involved in the lives of students, faculty, and the community members. Wabash prides itself on the close interactions between faculty, staff, and students. "Lora and I will be huge fans of the institution and really try to get involved with student life, recognizing that a president has a lot of other types of responsibilities too," Hess said. "I have good relationships with students at CMC, and I plan on making that one of the hallmarks of my presidency at Wabash."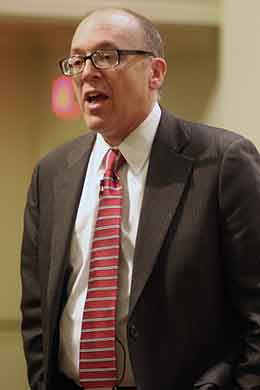 While there are similarities between CMC and Wabash, Hess will have a lot of adjusting to do when he arrives in Crawfordsville. One of his favorite CMC traditions is enjoying Rice Krispie Treats at 3 p.m. each day, which serves as a chance for people at CMC to come together and socialize. While CMC traditions will be left behind, Hess looks forward to the new chapter and developing new relationships.
"Lora and I are incredibly excited and honored to be joining Wabash and I am looking at it as a great adventure," Hess said. "There are so many impressive things about Wabash that I want to embrace, so I see the upside as huge and real here."
The future is uncertain, but Hess has high hopes and plans for Wabash to continue to thrive as one of the top liberal arts colleges in the country. "We are going to drive [the College] with excellence and with some entrepreneurial thinking which means that you have to take some calculated risks on developing new activities and you also have to be ready to manage those risks," Hess said. "That means you need a good team in place to be the eyes and ears out there and give you good advice when things are working and in particular when things are not working. We are going to try some new things and we are going to do them well within the culture of Wabash but we are going to try to expand students' opportunities for the future."
Hess was selected from a pool of three finalists. President Patrick White will finish this semester as president of Wabash, and Hess will officially take office July 1.