Alumni Board Leadership To Change in May
by Tom Runge • January 29, 2013

Share: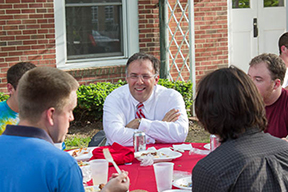 Greg Castanias '87, a partner with the Jones Day law firm in Washington, DC, will turn over the gavel to Greg Estell '85 at the end of the May meeting of the board of directors of the National Association of Wabash Men. Castanias has been a model President as an engaged leader and the group's been a board of action during his tenure.
Castanias has reached out to alumni from every part of the Wabash community. This wasn't just a promise made of empty words – they we backed by the board outreach to minority alumni, faculty members, independent students, fraternity members, and students/alumni with differing sexual orientations. The bottom line has been simply that "there's room under the Wabash alumni tent for everyone" as Castanias says. Greg will take on a different role as he replaces Mark Dewart '74 as the board's immediate past president.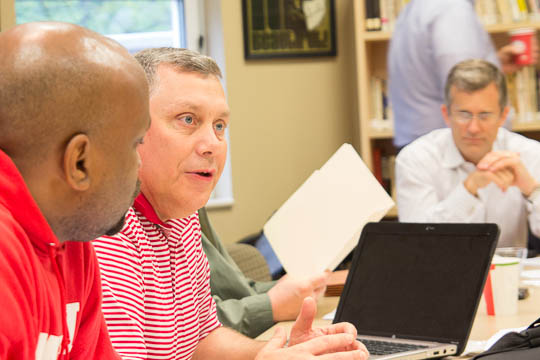 Estell, the president of his own firm, the Estell Group based in Central Indiana, brings a varied alumni background. He was one of the founders of a regional group in the Milwaukee area. After the move to Indianapolis, Estell quickly became involved in the College's biggest group of alumni and is serving on the board of the Indianapolis Association of Wabash Men as well. Estell has embraced the board's efforts and sees the next two years as an opportunity to make Wabash stronger and better than ever.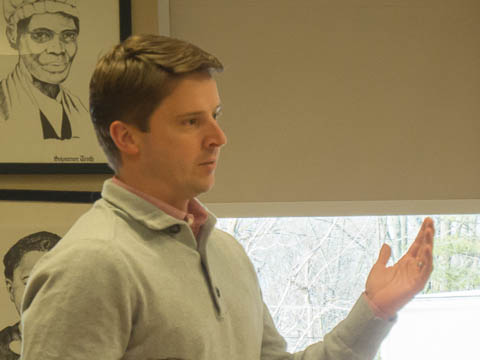 Kip Chase '03 will step up as Vice President and President–elect. Kip, employed by Eli Lilly in Indianapolis, has also been an active alumni leader. Chase, a class agent for his class, served as a Campaign steering committee member for the recently-completed Challenge of Excellence and also as a member of the Presidential Search Committee which identified Gregory Hess as Wabash's 16th President.
The board also signaled it appreciated the contributions of faculty member Greg Redding '88 by selecting Redding for another term as board recorder.
All of the appointments take effect at the completion of the board's May 2013 meeting and each individual will serve a two-year term.
Photos:
Top - Greg Castanias '87 talks with students at the Senior picnic
Middle - Greg Estell '85 makes a point at the alumni board meeting
Bottom - Kip Chase '03 talks to fellow board members