Lake Keynotes King Celebration in Hometown
by Jim Amidon • January 26, 2013

Share:
Associate Professor of English Tim Lake returned to his hometown of Fort Wayne, Indiana last weekend to keynote the 28th Annual Service of Repentance and Reconciliation at Plymouth Congregational Church. The event celebrated the life and works of Rev. Dr. Martin Luther King, Jr., and attracted significant media attention.
In his remarks, Dr. Lake reminded the many hundreds of attendees of King's important messages of faith and hope as he fought segregation during the Civil Rights Movement. But Dr. Lake also said, "We have not yet arrived at what King called the 'beloved community.'"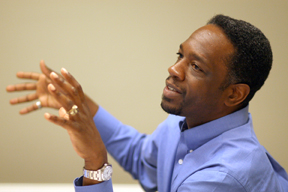 "Definitely we have some progress that's evident," Dr. Lake said. "The fact that we are celebrating an African American man is a marker of progress on the eve of the inauguration of an African American man for president.
"However, many said there's still some work to be done. ?"Tremendous poverty and persistent poverty in America, the fact that those issues haven't been addressed and resolved is problematic, and it's something that King gave his life for."
Dr. Lake joined the Wabash College faculty in 2004 as a member of the English Department and Director of the Malcolm X Institute of Black Studies. He received tenure in 2011.
Dr. Lake attended Snider High School in Fort Wayne. He earned his undergraduate degree from Ball State University, master's degrees from Howard University and the University of Notre Dame, and his Ph.D. from Bowling Green.
"We all deserve to live full lives and rise to the height of our abilities," Lake said. "You can't just reduce Martin to words of love and non-violence. What he gave us was the example of a committed life, and you should never take that too lightly."
The event, covered by Fort Wayne's News Sentinel and Journal Gazette, as well as two television stations, featured Dr. Lake, as well as vocalists, hymns, and dancers. The Associated Churches of Fort Wayne and the Interdenominational Ministerial Alliance host the event each year on the eve of the Rev. Martin Luther King, Jr. holiday.