Wabash Mourns Trustee Ross Faires '58
• January 24, 2013

Share:
Wabash College mourns the passing of long-serving Trustee and Trustee Emeritus Ross N. Faires '58, who died January 24 in his home in Knoxville, TN. Ross served Wabash as a Trustee from 1991 through 2004, and as an Emeritus Trustee since that time.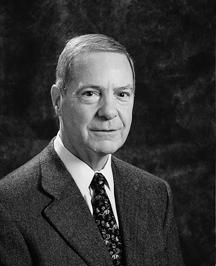 Ross was a psychology major at Wabash and a member of Beta Theta Pi.
He was a member of Sequoyah Hills Presbyterian Church and retired from Tibbals Flooring Company (Hartco). A native of Indianapolis, he is survived by his wife of 58 years, Glady, sons Kurt, Eric and Jay, grandsons Ross, Kurt, J. and Jay, and daughters-in-law Debbie Stansberry Faires and Christie Sell.
Ross served in the U.S. Army, was a graduate of Wabash College, and earned his M.B.A. from Indiana University. After graduation, he worked for Cummins Engine Company and was a group president of Arvin Industries, both in Columbus, Indiana. He moved to East Tennessee in 1976.
A strong supporter of education and the arts, Ross founded a Saturday School in Scott County, Tennessee. He also served as president of the Knoxville Symphony Orchestra, chairman of the UT Chancellor's Associates, on the Tennessee Board of Regents and on the boards of First American National Bank, St. Mary's Hospital, First National Bank-Oneida, Webb School, Knoxville Zoo, Helen Ross McNabb Center and Knoxville Museum of Art.
The family will receive friends on Saturday, January 26 from 5:00-7:00 p.m. at the Rose Mann Mortuary. A memorial service will be held at Sequoyah Hills Presbyterian Church at 2:00 Sunday. In lieu of flowers, memorials may be made to the Knoxville Symphony Orchestra or Wabash College, 310 W. Wabash Avenue, Crawfordsville, Indiana 47933.