Red Pack 28th at Cross Country Nationals
by Brent Harris • November 17, 2012

Share:
A tough start proved too much for Wabash to overcome Saturday as the Little Giants finished 28th out of 32 teams at the 2012 NCAA Division III Cross Country Championships.
The Little Giants were competing at the national championships for the third consecutive season, the first time a Wabash squad has made three straight national cross country championship appearances since earning berths from 1991-1996.
"It was a rough day for us,"Busch said. "We didn't assert ourselves at any point in the race. We didn't go out hard and we never really made a move."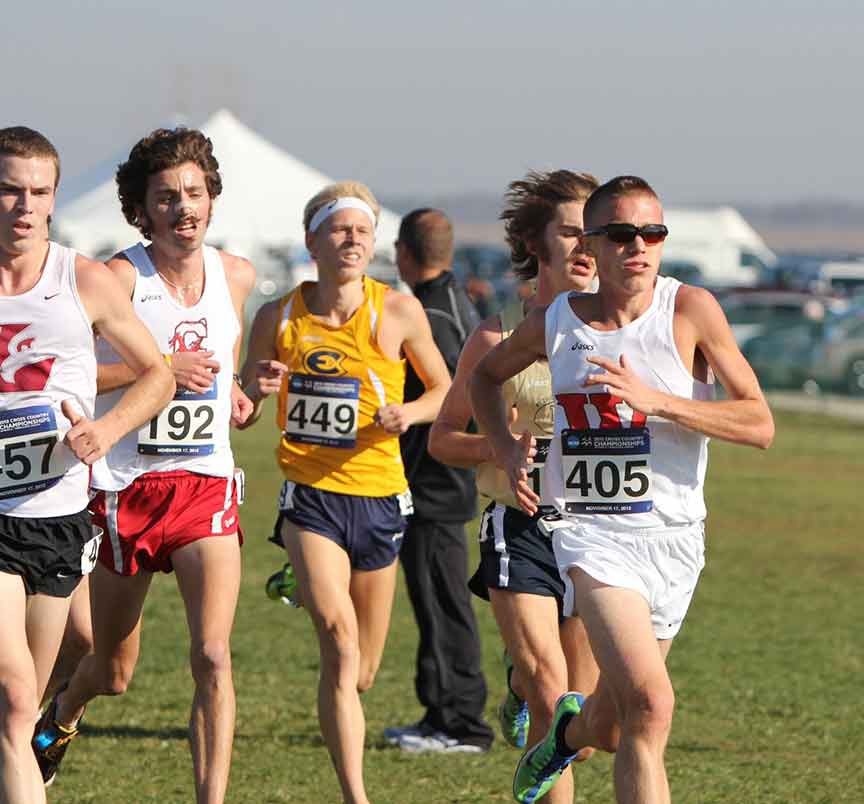 Shane Hoerbert led Wabash by finishing in 90th place with a time of 25:37.8 over the 8,000-meter LaVern Gibson Course in Terre Haute, Indiana. Nick Boyce finished 187th with a time of 26:16.7 in a field of 280 runners. Billy McManus grabbed 192nd place (26:18.2), while Dalton Boyer finished 230th (26:43.6). Daniel Hoover completed the team scoring for the Little Giants with a 238th-place finish (26:50.3).
Jake Waterman, the lone senior competing at nationals for the cross country team, finished 246th (26:57.1). Jared Burris was the final Wabash runner to cross the finish line, taking 250th place (27:03.5).
Wabash scored a total of 711 points. North Central (Ill.) won the team title with 167 points. Calvin, the winning team at the NCAA Great Lake Regional where Wabash finished second last weekend, took second place at nationals with a total of 188 points.
"We graduate one guy this year," Busch said. "Shane Hoerbert didn't even run conference last year and he's our top runner. Nick Boyce has come on hard and he's our number two. So we're young and I think we were nervous at the start. We need to develop confidence to run well in the big meets, which was a problem for us this year. We showed flashes of what we could become at times this year, but today we struggled.
"I think these guys have tremendous potential. Today was a learning experience, and I'm looking forward to helping this team assert itself as a champion."
More News
---
---
Photo Galleries

Wabash Cross Country at 2012 National Championships